District 7 Republican Primary: For John Eagleton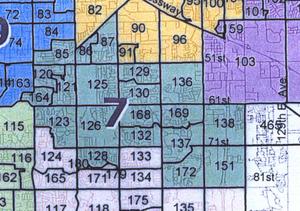 This is the most clear-cut race on the ballot. Tulsa needs John Eagleton on the City Council, and Tulsa needs to remove the bizarre character who currently occupies that seat. This is a key race, one which will be decided in the Republican primary on February 3, and is perhaps the best chance to replace a bad councilor with an excellent one.
John Eagleton is a native Tulsan, the fourth generation of Tulsans in the legal profession. After graduating from ORU School of Law in 1986, Eagleton served as Assistant District Attorney for three years before starting his own practice specializing in criminal law and family law. While our state legislature sometimes seems to be overrun with attorneys, we could use at least one city councilor who has a legal background. As a councilor, John Eagleton would be able to help his colleagues evaluate the advice coming out of the City Attorney's office.
In addition to his legal experience, Eagleton has an undergraduate degree in accounting. Smaller, more efficient government has been a key theme of his, and he would use his accounting knowledge to help taxpayers get better services for our tax dollars.
John Eagleton wants to make Tulsa a better place to do business and would address taxes and regulations that hinder local entrepreneurs.
As an attorney, Eagleton understands the importance of following the rules and keeping the process fair. He was appalled by the treatment received by homeowners in the 71st & Harvard zoning case and has been supportive of homeowners' concerns about the process.
John Eagleton is a social conservative as well as a fiscal conservative, and is committed to the sanctity of human life, to traditional values, and to the individual's right to keep and bear arms.

John Eagleton has been married for 11 years to his wife Alison, and they have two boys, age 8 and 6. The family is active in First Presbyterian Church, where John and Alison sing in the choir, and John is active in Downtown Kiwanis.
I first met John Eagleton when we were both running for Council in 2002, and I have enjoyed getting to know him. He is courteous, gracious, and generous. He is serious about doing what is right for our City and its citizens, but he doesn't take himself too seriously.
Because there are some famous last names involved, there may be some confusion for voters. You need to know that Randy Sullivan, the incumbent, is no relation whatsoever to Congressman John Sullivan. I suspect Randy Sullivan benefitted from the confusion in the 2002 council primary, which followed John Sullivan's special election to Congress by only four weeks. I also suspect (although I have no way of knowing) that the congressman would rather not have such a controversial character who shares his last name in the headlines.
Tulsans with a political memory know the name Eagleton because of Norma Eagleton, who served three years as city Finance Commissioner in the late '70s before serving on the Oklahoma Corporation Commission. John Eagleton is Norma's nephew, but they have very different political perspectives. John is solidly conservative, solidly Republican, active in local grass-roots party organizations.
The Tulsa Whirled's story on Sunday seemed designed to prop up their pal Randy Sullivan (chief water carrier on the F&M Bank rezoning at 71st & Harvard) by pointing to voter registration -- Sullivan has been a registered Republican for 20 years; John Eagleton for about 8 years.
John Eagleton was raised with conservative principles, but like a lot of Oklahoma conservatives, he was also raised in the Democratic Party. Also like a lot of conservatives, he tried to promote conservative values within the Democratic Party as long as that still seemed possible. The last straw for him was the way the Democratic Party rallied around Bill Clinton while trashing a war-hero and distinguished senator, Bob Dole.
When I think of the long list of former Democrats who became leading conservative voices in the Republican Party -- Ronald Reagan foremost among them -- I'll take a convert who believes in Republican principles over a life-long Republican-in-name-only, who opposes Republican principles at every turn.
As for Randy Sullivan, I've written about him at length in the past. He is no friend of neighborhoods. He led the charge to throw out the 71st & Harvard homeowners' petition and even made the motion to cut off the discussion, to prevent homeowners from presenting their concerns about the process to the City Council. Then he had the gall to propose a meaningless bandaid in what appeared to be an attempt to derail the homeowners' civil rights lawsuit against the city. More recently he has tried to pose as a defender of neighborhoods against strip clubs, but he was one of the eight councilors (Medlock was not yet on the Council) who dropped the ball in November 2002 when the Council had a recommendation from TMAPC to improve the situation.
And when there was an opportunity to support a good infill project in his district, one that had the support of the neighborhood, Randy Sullivan opposed it, threatening legal action if the applicant refused to pay $60,000 for nearby street improvements. Regent Preparatory School was seeking a routine minor amendment to a site plan to reuse the old Children's Medical Center for their new campus. Thanks in part to Randy Sullivan's bizarre intervention, the school is still looking for a home where they can expand, the owners of the building are still looking for buyers, and the nearby homeowners are still wondering what will ultimately occupy the site, and what impact it will have on the neighborhood.
Randy Sullivan has a campaign consultant who is notorious for his use of last-minute smears to help his candidates. This campaign consultant was responsible for an election-eve negative phone call against Pam Peterson, who won the special election in House District 67. Expect to see similar tactics used at the end of this campaign.
John Eagleton is the right choice for City Council District 7. Please give him your vote and your support.