Happy Birthday, Honey Bunny...
...ducky downy, sweetie chicken pie, little ever-lovin' blue-eyed jelly beane*.
After leaving the Platform Committee meeting, I headed downtown to a delightful gathering at an Irish pub called Slainte. Not only did I get to meet Dawn Eden, Petite Powerhouse, her own self, but also many of her blogging friends and her mom and stepdad, Rachel and Ron.
(Ron and Rachel guest-blogged on the Dawn Patrol during Dawn's vacation, relating, in daily installments, the path along which Jesus led them to Himself -- start here and scroll up to read the July installments, then continue here for August's continuation of the story. It's moving reading. And mixed in is a "best of" selection of Dawn's work which is a good intro to her work if you've never before had the pleasure.)
Ron and Rachel had a surprise for Dawn -- a cake in honor of her ninth birthday, if the candle count is to be believed.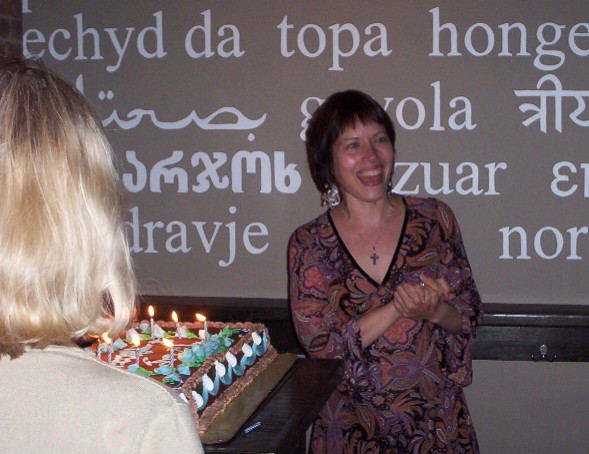 There ensued eating of delicious cake (really -- it had all sorts of fillings) and much more conversation and fellowship. Dawn introduced me around to everyone there, and I had a dozen or so fascinating conversations, chiefly about politics and the convention. I actually didn't spend much time talking to Dawn herself, as she was acting as a human mixer (thinking of cake batter here -- that was really good cake), folding people in as they arrived and making introductions. And since we read each other's blogs, we know a lot about each other already. But I did manage to get a snapshot with her before she had to go. (As usual, my eyes are nearly closed.)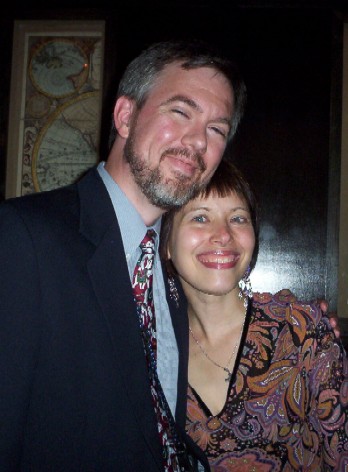 * If you spells it with a final E, it's a girl's name.