Wall-to-wall Corner
Mikki (my wife) and I attended the NRO Corner bash at Turtle Bay. They were giving out buttons saying things like "Save a Hamster / Vote for Kerry" -- someone though that had to do with that old urban legend, but it's a reference to one of Kerry's daughters speech about her dad givning CPR to a hamster.
Got to meet and chat briefly with NROniks John Derbyshire, Jim Geraghty, who writes the "Kerry Spot", and Jay Nordlinger, who writes Impromptus. Might have met more NR people, but the place was absolutely jammed with people. We saw fellow bloggers Karol, Lisa(Happy Birthday!), Roger L. Simon. Nearly a dozen other bloggers were arriving just as we were headed to another event.
We also met John P. Margand, executive director of Project REACH, an organization that provides support to crisis pregnancy centers, and Eric Metaxas, who used to be a writer for Veggie Tales (a favorite of all ages at our house).
Here are a few photos -- Jonah Goldberg holding court at the bar: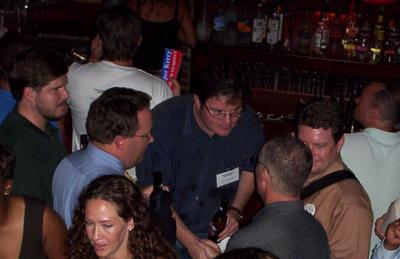 Derb in discussion:
And a picture of the vast throng that assembled: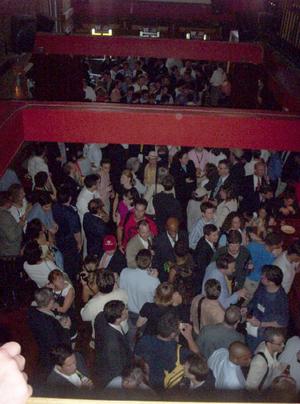 I like what Karol had to say:
I love the convention being in my city. All the regular rightwing events are on steroids, with more people than ever and a great vibe. I had my doubts about the convention being in the city, I thought that the protestors would be a downer but its been so great, the protestors are like crazy cousins who you tolerate but all the good times happen without them.
You mean the New York conservative scene isn't like this all the time?