Tulsans take a stand
(NOTE: If you can't see the pictures, it's because your firewall or Internet security program doesn't permit "referrer" messages to be sent to the web server for this site. I have "bandwidth protection" enabled, which prevents another website from directly incorporating images from my site, and unavoidably a browser request without a referrer is handled as if it were an attempt at bandwidth theft.)
It was a magnificent sight. By 5:45 Aaronson Auditorium was packed to capacity -- easily 300 people in there, and more already gathered on the Civic Center Plaza, where KFAQ had their van parked. Michael DelGiorno was doing a live "emergency broadcast", preempting Laura Ingraham's syndicated show and setting the stage for the town hall meeting hosted by four members of the City Council's bipartisan Reform Alliance majority. At about 5:50, Councilor Chris Medlock addressed those gathered in the auditorium, and asked for a show of hands -- stay put or move outside to allow more people to hear. By a two-to-one margin they voted to move up to the plaza.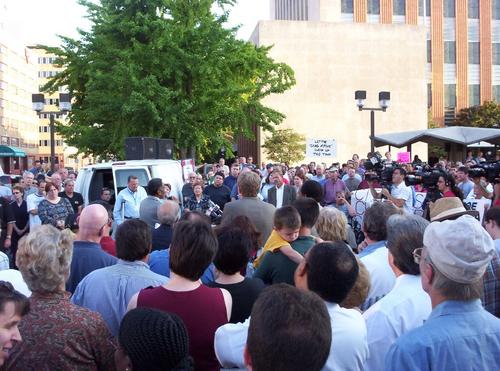 In the middle, you can see Councilor Roscoe Turner speaking. He was the first of the group to address the crowd, followed by Jim Mautino, then Jack Henderson, with Chris Medlock batting cleanup. As you look at that picture, keep in mind there are hundreds more off the right edge, going west into the plaza at least as far as the library entrance, more behind me, and more all the way to Denver. I'm guessing we had about 2,000, but that's just an educated guess. Here's another view, from behind the councilors looking west: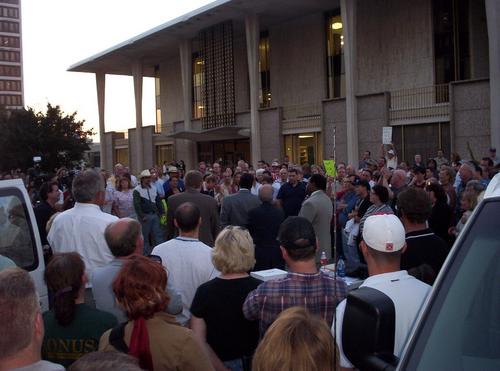 I couldn't take notes -- I had my daughter on my shoulders a lot of the time -- but there were many memorable moments. Jack Henderson went down a list of institutions that have come after the reformers, following the same pattern: "We don't have a personal problem with the Chamber of Commerce, but the leadership of the Chamber of Commerce seems to have a personal problem with us. We don't have a personal problem with the Tulsa World, but the leadership of the Tulsa World seems to have a personal problem with us." This group is not out to get anyone, but the fact that they ask questions seems to have a lot of people out to get them. Henderson pointed out that there had been councilors in the past who would ask tough questions. He thanked God that there were now a majority who would ask the tough questions.
Chris Medlock started by responding directly to the charges that have been leveled against them, then moved on to speak about the positive aims the reformers have for our city. Medlock made it clear that he was and is a supporter of Vision 2025; he simply wants to make sure that it's done right. Medlock pointed out that the city is very different than it once was, but we are still operating under plans drawn up in the 1970s. When our zoning code was developed, retail was dominated by Froug's and C. R. Anthony's and OTASCO and TG&Y; today, it's Home Depot and Lowe's and Wal-Mart. We can and must work together, without hateful rhetoric, to adopt reasonable reforms so that city government will work as it should for our people.
None of this is verbatim, but hopefully there someone will make audio available online before long.
I was impressed that the councilors stayed positive as much as they could, while defending their record. There were no verbal attacks on those who had been attacking them. There was no demagoguery. Medlock rebuffed a suggestion that DelGiorno made about marching on the VIP reception for the arena unveiling.
I'm fading fast here. It was a great event, and the Councilors, their families and supporters, the citizens who came out, and KFAQ radio should all be proud of the part they played in making this important event successful.