Getting Terri's message out: Making the most of the opportunity
As one of over 200 bloggers writing to support Terri Schiavo's right to receive food and water, despite her physical handicaps, I appreciate the hard work of the organizers of Blogs for Terri. I admire their efforts to think outside the box -- to find some creative way to break through the fog of mainstream media misconceptions about Terri's condition, to help Floridians understand what is really going on, so that they can apply pressure on all branches of Florida government to see that justice is done. What I'm about to say is offered in the spirit of constructive criticism.

I was pleased to see the effort to place a newspaper ad in the St. Petersburg Times, the daily paper in Pinellas County, where Terri is being warehoused by her husband. The purpose of the ad was to put out the truth about Terri and direct readers to online resources where they could get the details. I was pleased to see that the fundraising effort succeeded. I was disappointed to hear of the Times' threats to censor the ad, but happy to learn that the Tampa Tribune agreed to run it as is.
But when I saw the ad, my heart sank. As I thought about it, I started to think about the problem in a different way, which pointed to an entirely different approach.
Here's the ad. Don't try to read it -- just look at it, the way it might catch your eye as you're reading the paper. See if you can guess why it disturbed me.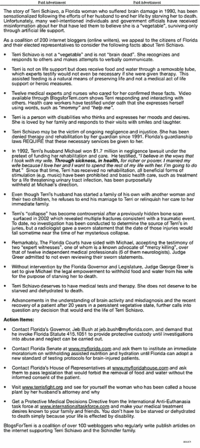 If you're skimming the paper, you are going to skim right past a dense block of text with no headline, no pictures, and no variation in font. You have no reason to believe that the information in this box has any relevance or interest to you. For all you know or care, it's a legal notice about a zoning change.
This thought hit me: "This is a classic mistake of political novices." You focus on the words, and you cram in as many as possible, which does you absolutely no good if something doesn't compel the reader to look at it and then decide to read it. I made that mistake during my first City Council campaign, and while I improved during the second campaign, my mail pieces were still far too wordy and lacking in visual interest. They drill it into you at candidate seminars -- your campaign mail piece has only the 10 seconds between the mailbox and the wastebasket to make an impression. I've been involved in enough campaigns to have seen both very effective and practically useless efforts to reach voters.
That thought led to this one: Terri's situation requires the application of political strategy. The goal is not simply to inform the public, but to stir them to take action. In a campaign, the action is to vote. In this case, we want Floridians to lobby public officials to help Terri. Next, because you've got a budget, you've got to decide whom to target -- who will be easiest to stir to action. Then you've got to figure out which media to use to reach your target audience most effectively -- possibilities include direct mail, direct phone, radio ads, newspaper ads. A series of 30 second spots during national radio talk shows might produce a far better response than spending the same amount of money on another newspaper ad. Finally, whatever medium you use, the message has to be compelling enough that your target audience will pay attention and then follow through.
This is a job for political consultants. At the very least, if there's going to be another newspaper ad, a consultant who specializes in designing campaign literature needs to put it together, so that it will be eyecatching and will get the key information across in the few seconds that a reader will give it his attention. Better still, have a campaign consultant design a media campaign that will have the best chance of producing the desired response.
There are bound to be some solid conservative consultants based in Florida who know exactly how to reach pro-life voters and stir them to action. One or more of them need to step forward and offer to work with Blogs for Terri to help make it happen.
(Almost forgot: Here's a link to a larger image of the ad that ran in the Tampa Tribune.)