On the eleventh day of Christmas, my true love gave to me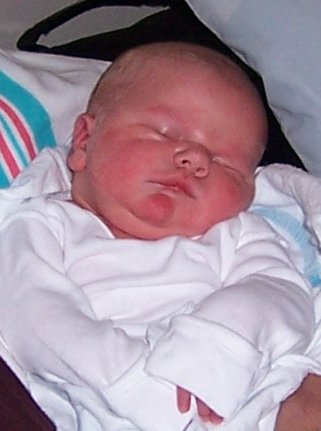 ... a big, beautiful, boy baby!
He was born at 7:41 a.m., weighing 10 lbs., 0.3 oz., 21" long, with a 15" head circumference. Apgars were 8 and 9. Absolutely perfect. Mother and baby are fine. (It was a scheduled repeat C-section.) Praise God!
He was raising his head shortly after he was born. His foot barely fit on the inkpad they used for footprints. He has been able to nurse, although he's still in that first-day drowsiness and more interested in snuggling than eating. Around 7 tonight, he opened his eyes long enough to give us a good look. It looks like, for now at least, he has blue eyes like both his siblings.
This afternoon he met his big brother and big sister (who is very happy to be a big sister) -- both got to hold him -- his grandpa and grandma and grandmother, his cousins and aunt, and some family friends.
We are blessed to have three beautiful, healthy children. Thanks for your prayers.