Huey's Shoes and the news
Got an e-mail today from Shane Hood, who owns the neon sign for Huey's Shoes, one of the shops in the old Mayo Meadow Shopping Center (1955-2005). He sent me a photo and had this to say:
The Huey's shoe sign isn't completely out yet. I light it up every once in while in my backyard. I bought it form the owner of the Mayo Meadow land and we salvaged it before the center was demolished. I rewired the half of the sign that still worked. I also have the sign that was attached to the soffit over the sidewalk in front of the store.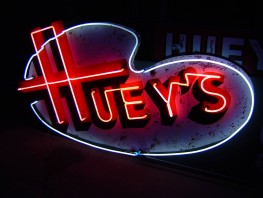 I'm happy that the sign has found a good home. Mayo Meadow was home to some wonderful neon: the Argie Lewis Flowers sign (which you can see at their new location on 41st east of Sheridan), and the shopping center sign itself. It would have been nice if the new Wal-Mart Neighborhood Market would have incorporated mid-20th-century elements in the store rising on the Mayo Meadow site. (Click the small image to see the sign in all it's 2000x1500-pixel glory.)