Clear classicism
Back a few months I let out a "hooray" on the linkblog at the news that Thomas Gordon Smith, a classical architect, had been named Chief Architect of the United States, a position with the General Services Administration, with responsibility over the design of Federal courthouses and other Federal buildings. The decision seemed to offend all the right people:
Others are worried federal architecture will lose its cutting-edge focus. Henry Smith-Miller, of Smith-Miller + Hawkinson, a New York firm, which designed a border station under construction in Champlain, N.Y., said he finds Mr. Smith's appointment "deeply troubling." He called Mr. Smith's traditional views "anti-progressive."
The appointment even brought out a bit of Bush Derangement Syndrome:
Smith is a crawl-back-into-the-womb kind of guy, addicted to buildings that look like Greek Temples and Roman palaces, seemingly right in tune with the Bush administration's mindset of empire.
And more:
But not everyone in the architecture community so sanguine. "A representative of the U.S. government needs to act on balance in the selection of architects," Stanley Tigerman, principal of Tigerman McCurry Architects in Chicago, tells ARCHITECT. "And with Jeff Speck [director of design at the National Endowment of the Arts, appointed in 2003] and now Smith, there seems to be a right-wing Republican pattern…. To have [Smith] as head of GSA—shocking barely begins to describe it."
Blair Kamin, the Chicago Tribune architecture critic wrote:
Some modernists were apoplectic, charging that Smith's devotion to traditionalism would set back the progress made by former GSA chief architect Ed Feiner. Feiner spearheaded a design excellence program and recruited leading modernists such as Thom Mayne of Santa Monica, Calif., and Richard Meier of New York City to design federal buildings.

In classical quarters, there was rejoicing about a resurgence of marble and white columns. "Modernists have had their chance to shape the nation's appearance, and few people would say that it's more pleasing today than it was before," wrote the editorial page of the Providence Journal, which serves as a sort of Fox News of architecture criticism.

I guess that Fox News reference was supposed to be a slam. A newspaper that expects beauty in taxpayer-funded buildings must be a robo-supporter of Chimpy McBushitler's fascist regime. These critics of Smith's appointment seem to be angry that the government will no longer fund buildings that set out to insult bourgeois notions of aesthetics using the bourgeoisie's own money.
Here's an entry on Veritas et Venustas with photos that contrast the classicism of Thomas Jefferson's University of Virginia campus with the work of Smith-Miller, the anti-anti-progressive mentioned above. Would you rather live, study, and work among classical rotundas or modernistic versions of deer stands?
A look at Thomas Gordon Smith's online portfolio does not reveal a slavish devotion to Greco-Roman columns and marble, but rather a willingness to draw from traditions that are appropriate to the locale, the urban context, and the building's purpose.
One of his projects is the Clear Creek Priory, a Benedictine monastery under construction near Hulbert, Oklahoma. The directions of the client to the architect: "We want a monastery to last a thousand years." Smith's project page gives this description:
The site is in the foothills of the Ozark Mountains. The monastery consists of a church and a cloistered residence. The architecture is reminiscent of Cistercian monastic structures. A porter's lodge responds to the Benedictine tradition of providing hospitality in enclosed communities such as this. The complex corresponds with the traditional pattern of organizing function and orientation.
Do you see any Roman columns in this drawing?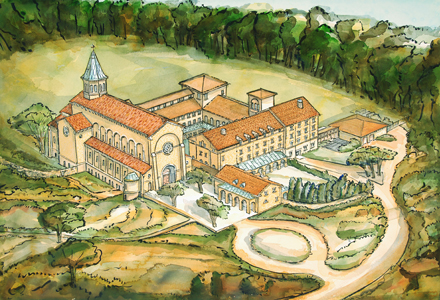 0 TrackBacks
Listed below are links to blogs that reference this entry: Clear classicism.
TrackBack URL for this entry: http://www.batesline.com/cgi-bin/mt/mt-tb.cgi/2607