Harry Potter, the Toothless Fairy, and Little Bear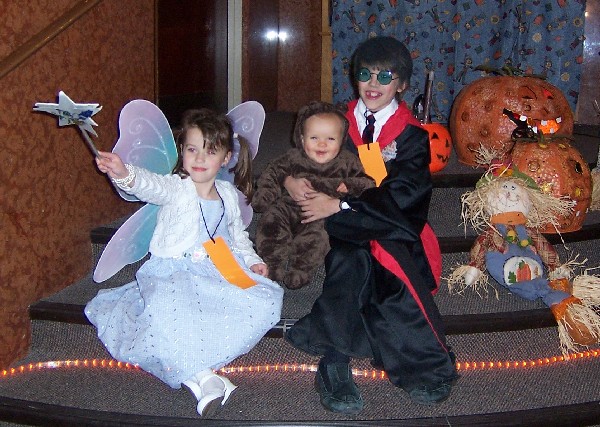 We opted, as usual, for homemade costumes, which are more fun and usually look better than the storebought kind. My daughter's toothless fairy costume was a nice dress, a pair of butterfly wings, and a wand that she decorated herself. (Nature took care of the toothless part.) A neighbor sewed my son's Gryffindor house robe, and we added the house patch. We bought his wand, and a cheap pair of sunglasses and wash-out hair dye completed his costume.
About 6:30 last night, I took the two big kids around our block. Of the 40 houses around us, about 10 were open for business. We saw a few other families out as well -- but they seemed to have driven into the neighborhood from somewhere else.
My wife had mentioned a "trunk-or-treat" event at the church down the street. That's where people park their cars in the church parking lot, pop open and decorate their trunks and hand out candy. Seems kind of pointless -- stop at one trunk, get candy, take four steps to the next trunk, get candy, repeat. You lose the anticipation of walking up the steps and ringing the doorbell, wondering who will answer and what kind of treats they'll have. Making the circuit in a parking lot doesn't compare with deciding whether to turn the corner to the next block or head home.
Halloween was a neighborhood event when I was a kid. It was in the neighborhood, and it reinforced a sense of neighborliness. Nowadays we don't shop with, worship with, or go to school with the people we share a subdivision with. Attending Halloween events away from home severs one of the few remaining ties to neighborhood, and reinforces our membership in geographically-scattered communities.
(Take a map and mark the places you visit on a regular basis -- your church, your job, where you shop, where your kids go to school. That's your true neighborhood.)
That said, we next got in the car and headed to First Baptist Church downtown for their fall festival, where we took the above photo. My parents are members there, and we go nearly every year. They have carnival games, a pony ride, face painting, and a bouncy castle. $3 buys a 20-punch pass, and each game or attraction takes one punch -- it's not expensive, but the kids have to think about how they want to spend their punches. Win or lose, you get candy just for playing the games.
Grandma got a balloon for the baby and tied it to his stroller. He had the best time pulling down the string hand over hand to bring the balloon closer.
(I know, I'm a rotten dad: I let my son read Harry Potter, let my kids go trick-or-treating, with my son dressed as Harry Potter, and I let my baby have a dangerous balloon.)