Cain's in top 100 for ticket sales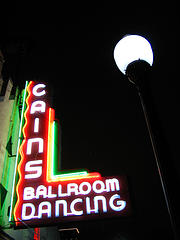 Congratulations to Cain's Ballroom, which is once again is one of the top ticket-selling concert venues in the world. According to Pollstar, Cain's was 38th in ticket sales among venues with a capacity under 3,000, selling 84,746 tickets in 2006.
The numbers tell me that Tulsans will get out and support live entertainment, and the people at Cain's are doing a great job of booking the wide variety of acts that Tulsans want to see. (Me, I'm looking forward to the Bob Wills Birthday Bash on March 2nd and 3rd, featuring Leon Rausch, Tommy Allsup and the Texas Playboys.)
To give you an idea of what kinds of places are included in this category, nine of the top 25 small venues are House of Blues outlets, including the flagship in Chicago. The Chicago House of Blues sold 219,083 tickets in '06. Cain's ranks just below The Avalon in Hollywood and just ahead of Metropolis in Montreal, Hard Rock Live in Orlando, and House of Blues in San Diego.
Cain's capacity is only about 1400, which means they must fill the place pretty often to generate those kinds of ticket sales.
0 TrackBacks
Listed below are links to blogs that reference this entry: Cain's in top 100 for ticket sales.
TrackBack URL for this entry: http://www.batesline.com/cgi-bin/mt/mt-tb.cgi/2692