Nelson's neon
A photo by David Moos of Nelson's Buffeteria's beautiful neon sign, when it still hung on Boston Ave. Click the image to see the full-size version.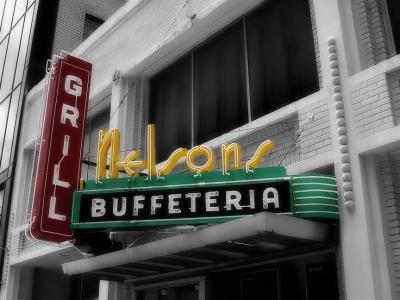 I'll have a chicken fry, mashed potatoes, gravy, green beans, a roll, and a slice of chocolate pie, please. Remember how they'd ladle cream gravy on the plate, put a chicken fried steak on top of it, then ladle more gravy on top?
Question for discussion: With Nelson's gone, what's the best place in Tulsa for chicken fried steak?
0 TrackBacks
Listed below are links to blogs that reference this entry: Nelson's neon.
TrackBack URL for this entry: http://www.batesline.com/cgi-bin/mt/mt-tb.cgi/2702