The rise and fall of Greenwood
I've been so busy creating content for this coming week's Urban Tulsa Weekly that I haven't had time to link the current issue's column. It's about what I call the Greenwood Gap Theory, the widely-held notion that nothing happened in Tulsa's one-time African-American commercial district between the 1921 Race Riot and the late '80s construction of the OSU-Tulsa campus.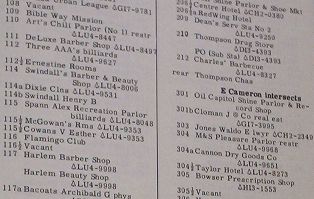 To fill the gap, I look at the historical record provided by aerial photos, street directories, and oral histories, all of which reveal that Greenwood was rebuilt after the riot, better than before in the view of many, but it was government action -- in the form of urban renewal and freeway construction -- that produced the empty lots in the '70s which OSU-Tulsa replaced.
An annotated aerial view of Deep Greenwood (the part of the district extending a few blocks north of Greenwood and Archer) from 1951 accompanies the story. Here's a larger version of the graphic for your perusal (1 MB PDF). (The scan of the aerial photo was done by INCOG at a cost of $35. INCOG has aerial photos of the entire county taken at roughly 10 year intervals.) And this photoset contains the pages from the 1957 Polk City Directory for N. Greenwood Avenue, showing the businesses, churches, and residences in house number order. Specifically they are pages 357 through 360.
0 TrackBacks
Listed below are links to blogs that reference this entry: The rise and fall of Greenwood.
TrackBack URL for this entry: http://www.batesline.com/cgi-bin/mt/mt-tb.cgi/2928