Tulsa 1957: Frank's Pig Stand
In a previous entry I mentioned a new book of historic photos of Tulsa, and one photo in particular of a tree-shaded Art Deco cafe that looked very inviting. It was a photo of Frank's Pig Stand, 1437 S. Boston Ave., and it was still there in 1957, but not any more, of course. Here's the picture I saw, from the Beryl Ford Collection, dated approximately 1947: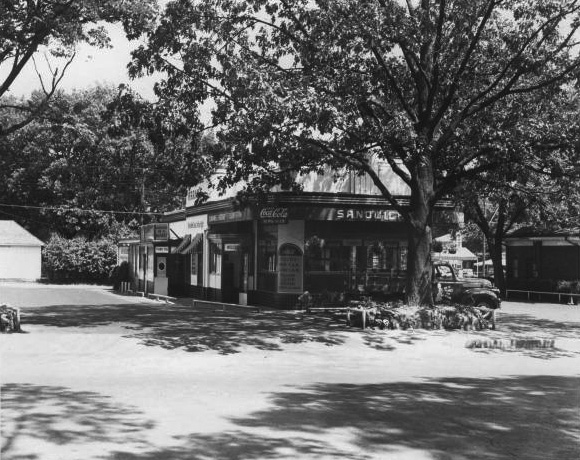 Here are some other photos of Frank's:
Same time as picture above, from the south
A wider view of the north side, winter/early spring
A wider view of the south side, winter/early spring
Those photos are on the Tulsa Library's website. I am happy that the Beryl Ford Collection is on the web, but I wish higher-resolution scans were available -- there are fascinating details that are visible in the originals that you can't make out at the resolution on the library's website. I also wish there were a geographical and temporal way to browse. Flickr would handle multiple resolutions for each photo and provides a very slick way to map each photo. The Google Maps API adds a temporal dimension -- you can add a year slider to a map and set up a start and end date for each object, so that the objects appear or disappear depending on the point in time you've selected.
0 TrackBacks
Listed below are links to blogs that reference this entry: Tulsa 1957: Frank's Pig Stand.
TrackBack URL for this entry: http://www.batesline.com/cgi-bin/mt/mt-tb.cgi/2981