Is it for the children? Is it for the young professionals?
Those are two questions about two major thrusts of the campaign for the proposed Tulsa County sales tax increase for river-related projects. In this week's column in Urban Tulsa Weekly, I ask whether this river tax plan is what we need to do for the sake of Tulsa's children and young adults.
In response to the first question, I deal in passing with one river tax cheerleader's active involvement in destroying a place of fun and happy memories for Tulsa's children, and pass along a suggestion, made by my wife, for how you could protest Bell's eviction from the Tulsa County Fairgrounds, should you decide not to boycott this year's Tulsa State Fair entirely:
In addition to the obvious -- don't spend money on the Murphy Brothers midway -- here's a homemade idea for those who go to the fair but wish to protest Bell's eviction: Wear bells to the fair. You can buy a big bag of jingles at a craft store for a few dollars. Thread a bunch on a ribbon to wear around your neck. Bring extras to give to friends or fellow fairgoers.

And if you want to make the point explicit, stick a nametag on your shirt with the slogan that's been spotted around town: "No Bell's. No fair."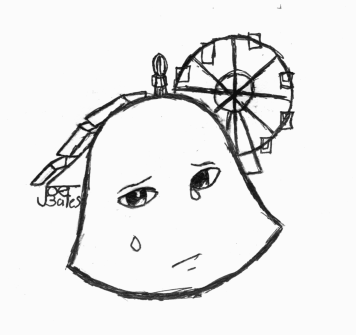 Accompanying that suggestion on page 7 of this week's UTW is the first published work by a budding young cartoonist named Joe Bates, depicting a weeping Bell. He's got some more political cartoons in the work. The demolition of Bell's is something my two older kids saw happening on an almost daily basis, and it saddened them both greatly. I'm proud to see my son express his sentiments so eloquently in art. He's already working on some more cartoons.
I mentioned in the column that skipping the fair entirely is hard for a lot of people from Tulsa and the northeastern Oklahoma. Going back to the '40s my great-grandmother and grandmother would enter the craft competitions, and in recent years my two older children have had fun submitting their own creations. Joe has won two blue ribbons, one in 2004 for an acrylic painting and one last year for a convertible built with Legos. Both he and his little sister plan to enter some items again this year. To us, and to a lot of families, the Tulsa State Fair was here before Randi Miller and Clark Brewster and Rick Bjorklund, and it'll be here when they've all moved on to other things. But I can certainly understand those who plan to abandon the fair altogether.
Regarding young professionals, in my column I mention a recent visit to Orlando and a Saturday evening spent on lively Orange Avenue, between Church Street and Washington Street in that city's downtown:
Downtown Orlando has shiny new skyscrapers, a basketball arena, and a beautiful 23-acre lake with a fountain. But I didn't find the crowds around any of those. There were only a few people walking the path around the lake, and the sidewalk along Central Boulevard next to the lake was empty except for me.

Instead, the throng of twenty-somethings was promenading up and down four blocks of Orange Avenue, a street lined with old one-, two-, and three-story commercial buildings. The storefronts of those buildings were in use as bars, cafes, and pizza joints. The same kind of development stretched for a block or two down each side street. There were hot dog stands on every corner. Pedicabs ferried people to and fro. The numbers of partiers only grew larger as the little hand swept past 12.

An observation from that visit that I didn't include in the column: The block of Orange between Pine and Church Streets has these old commercial buildings crowding the sidewalk on the west side and a spacious plaza framed by two modern, round, glass and steel buildings on the east side. Where do you suppose people chose to walk? 90% of the foot traffic stayed next to the old storefronts and avoided the big modern plaza.