Drew Edmondson tops in their book
Oklahoma is internationally renowned! Here's a comment about the Eliot Spitzer scandal on Samizdata, a libertarian blog based in Britain (emphasis added):
Eliot Spitzer, one of the most nasty power crazed politicos in US politics today, perhaps second only to Oklahoma Attorney General Drew Edmondson in authoritarian thuggishness, has just shown that he who lives by the judicial sword, can oh so easily die by the judicial sword.
We're number one! We're number one!
The authoritarian thuggishness to which the writer refers? The threat of imprisonment hanging over the Oklahoma Three: Paul Jacob, Rick Carpenter, and Susan Johnson. From an earlier Samizdata entry by Dale Amon in Belfast:
I was rather surprised to discover that Oklahoma, of all places, is using State power not to just silence critics, but to send them to prison for up to ten years!

I simply never expected this sort of political repression to take hold in America. The Oklahoma government should simply be ashamed of the way they are sullying the American ideal.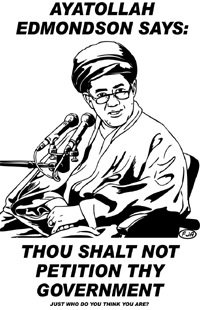 0 TrackBacks
Listed below are links to blogs that reference this entry: Drew Edmondson tops in their book.
TrackBack URL for this entry: http://www.batesline.com/cgi-bin/mt/mt-tb.cgi/3689