Lionizing totalitarians
I was at Tulsa Promenade with my family over the weekend and had taken the 12-year-old son to the food court for a late lunch, when I saw this ad for the Tulsa Zoo:
It's a spoof of the famous Che Guevara poster, depicting a lion as Che, wearing a beret, with the Tulsa Zoo logo in place of the Communist star.
Since when, I wondered, is it OK to use an image honoring a murderous, totalitarian thug to advertise a city-owned, family-oriented tourist attraction?
Perhaps I'm overreacting. Perhaps not. The surest way to tell is to substitute Communist imagery with that of a different totalitarian movement. Would the image below have been approved by Tulsa Zoo management for use in an ad?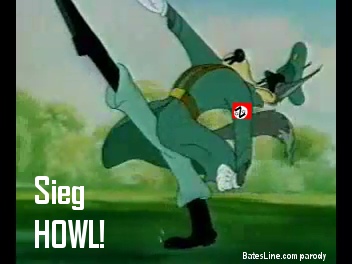 How about this?
Using Nazi slogans and imagery to promote visits to the zoo would be sure to backfire and upset a lot of folks in the process -- Holocaust survivors and their families, World War II veterans, and many other Tulsans who would be offended at tarnishing the zoo's image by association with a dictator and a regime that murdered millions.
We should be just as upset at the use of Communist imagery in this way. In the aggregate, Communism has killed far more people than the Nazis did (to be fair, they've had and continue to have more opportunity). Both movements are deeply evil. We should no more put a Che beret on a lion than put a toothbrush mustache and a red and black armband on a giraffe.
(With apologies to Tex Avery, for the use of an image from his WWII cartoon "Blitz Wolf," and to penguin Nils Olaf, colonel-in-chief of the Royal Norwegian Guard.)
1 TrackBacks
Listed below are links to blogs that reference this entry: Lionizing totalitarians.
TrackBack URL for this entry: http://www.batesline.com/cgi-bin/mt/mt-tb.cgi/4727
Cancel that order of hakuna matata and get a load of Ché as Top Cat: "Since when," wonders Michael Bates, "is it OK to use an image honoring a murderous, totalitarian thug to advertise a city-owned, family-oriented tourist att... Read More