Too-busy-to-blog links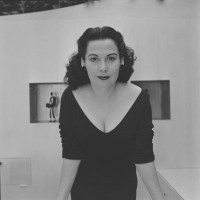 I'm in the throes of a major effort at work and only have time to throw you a few links to good reading elsewhere:
For your viewing pleasure, Tulsa TV Memories links to the Life archive and photos from February 1952 of KOTV general manager Helen Alvarez. Besides photos of the lovely Mrs. Alvarez, the archive shows the Channel 6 news, weather, and sports sets of the day, plus photos from the Sun Refinery and of a powwow. (Does this qualify as a Rule 5 post?)
Irritated Tulsan discovers that the Boulder Ave. bridge is safe enough -- for the crane that's demolishing it.
Steve Roemerman has posted a new podcast, reacting to Councilor G. T. Bynum's comments during last week's ballpark assessment vote.

Chris Medlock has a new podcast up, reacting to comments about city election "reform" made by former Mayor Susan Savage. And he talks to State Sen. Randy Brogdon about the legislative session and the gubernatorial campaign.
0 TrackBacks
Listed below are links to blogs that reference this entry: Too-busy-to-blog links.
TrackBack URL for this entry: http://www.batesline.com/cgi-bin/mt/mt-tb.cgi/5069