Wanda Jackson, Hot Club of Cowtown, Red Dirt Rangers at Cain's Ballroom
Red dirt, rockabilly, and western swing with Oklahoma ties are on tap this summer at Cain's Ballroom:
Wanda Jackson, the Queen of Rockabilly, from Maud, Oklahoma, was inducted into the Rock and Roll Hall of Fame back in April. After playing dates in London, Glasgow, and Interlaken, Switzerland, the rest of this month, she'll be at Cain's on July 7 with Nancy Apple and Ronnie Elliott, presented by the Woody Guthrie Coalition. Tickets are $24 for general admission, $39 for Gold Circle (tables down front).
(Wanda will play a Summer Breeze concert in Norman on July 12, and the Poncan Theater in Ponca City on September 19.)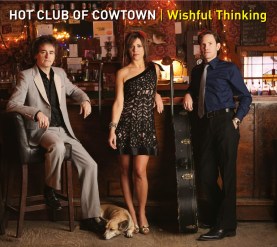 Hot Club of Cowtown -- Elana James on fiddle, Jake Erwin on bass, and Tulsa resident Whit Smith on guitar -- bring their blend of Bob Wills and Django Reinhart to Cain's second stage on August 19. Tickets are $12. Hot Club's new album, Wishful Thinking, is due out this summer. The album will include the song, "Hey, Beautiful," whose lyrics are taken from a letter by Staff Sgt. Juan Campos, in Iraq, to his wife Jamie, back home in McAllen, Tex. Campos died in the line of duty in May 2007:
Campos' words were among those published in a New York Times article on March 25, 2008, under the headline "Six of the Fallen, in Words They Sent Home." One of the readers was Elana James, singer and violinist in the Austin band Hot Club of Cowtown; she was immediately struck by Campos' message.

"Here are people (who) have very modern ways of communicating, and yet they're so far away," James says. "I didn't think it was poetic, but I was bowled over by the writing and especially the one Campos letter. It was so beautiful; he said everything in that one brief letter. Also, none of it was about him -- it was about his caring for other people."

Stirred by the sentiments, James started thinking there was a song there. She worked out a melody, composed an arrangement, then recorded it with the band. It's a departure from Hot Club's usual Western swing and vintage jazz; James' voice floats breezily above a country-folkish melodic line, her violin underpinning it all. The tempo starts slowly, picks up in the middle, then winds down near the end. The song's mood exists in a zone between whimsical and mournful, ending up at matter-of-fact. It stays with you.

Hot Club is offering "Hey, Beautiful" as a free download on its Web site; James plans to include it on the band's upcoming album, to be released early in 2009, and is working out details for any royalties the song might generate to be given to Campos' family (she's been in touch with them via e-mail).

You can listen to "Hey, Beautiful" and clips from previous albums on the Hot Club of Cowtown website.
On August 28, the Red Dirt Rangers will celebrate their 20th anniversary with a free show at Cain's. Donations will be accepted with all proceeds going to charity. The band was recently the subject of an Urban Tulsa Weekly cover story by Mike Easterling.
All three shows begin at 8 pm; doors open at 7. All three shows are open to all ages.