Yale demolishes its history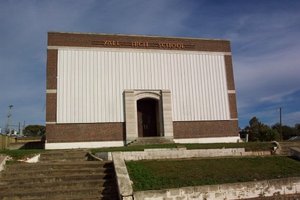 I just learned that the Yale, Oklahoma, Board of Education -- the school board in Jim Thorpe's hometown -- is demolishing its school auditorium, named in honor of long-time teacher Norma Velvin. That's bad enough, but what's worse is that they've left school trophies and memorabilia inside the building, along with the student records that had been stored there. I'm told that the building is already being pulled down.
The agenda for the April 13, 2009, board meeting includes these items:
Board to discuss the State Fire Marshal's Report regarding the Norma Velvin Auditorium with possible consideration of demolition.
Board to approve/not approve the demolition of the Norma Velvin Auditorium as stipulated by the State of Oklahoma , Office of the State Fire Marshal.
Board to approve/not approve the contract for demolition of Norma Velvin Auditorium as presented by the Superintendent.
The May 11, 2009, board agenda included this:
4. Board to discuss and vote to approve/not approve declaring contents remaining in the Normal [sic] Velvin Auditorium as of June 1st 2009 as salvage.
The auditorium is in bad shape from apparent neglect, and it appears that the State Fire Marshal ordered its demolition. That may excuse the demolition, but I can't think of an excuse for abandoning a community's history to the landfill.
According to a website devoted to renovating and restoring the auditorium to use, "Trophies of Yale Schools, Quay Schools, and Norfolk Schools still sit in the display cases and on shelves." This sort of material should have been removed and provided to a local historical society or the Oklahoma Historical Society. A trophy represents a moment of triumph, a team victory or an individual achievement.
Yale had a population of 1,342 in 2000. The school system has 549 students. I suspect that, as in many small Oklahoma towns, the school system is the largest employer. The school system is also often the one constant factor that binds together multiple generations in a community. Trophies, yearbooks, photographs, and newsletters make it possible for a young person to know something of the lives of their parents and grandparents when they were young.
A building helps to create that sense of continuity, too -- walking the same halls, sitting in the same classrooms.
From aerial photos it appears that the auditorium may be the last remnant of the WPA-era Yale High School. That last remnant is now being destroyed with a community's memories inside it. Yale seems determined to turn itself into a ghost town, remembered only as a dot on a map, with no past, and no future.
MORE: If student records were left in the building as salvage, the Yale school board may be in violation of state law. 70 O. S. 24-114 requires permanent retention of original student records and off-site or fireproof storage of duplicates of all permanent student records.
STILL MORE: J. Grau writes in the comments that the Fire Marshal gave the school the option of bringing the building up to code but says that the board only saw an altered version of the report. Grau writes that Yale Superintendent "Mike Wilson requested and accepted bids for the demolition of the building prior to the State Fire Marshal even making a statement as to it's condition and structural requirements." That statement appears to be confirmed by the April 2009 board agenda which has an item to approve demolition immediately before an item to approve a contract for demolition.
Via email, Tom Elmore points us to how Yale's Santa Fe depot was rescued -- by an out-of-towner buying it and moving it to an acreage near Cushing for use as the Cimarron Valley Railroad Museum.
RELATED? A brief tale of two rural Kansas counties -- one healthy and one not so much:
To the north we have County A, where people routinely farm well into their 80's, have active sex lives into their 90's, and there has not been a teen pregnancy in almost 10 years. These are the ruddy-cheeked insanely healthy country folk you may have read about. To the south, then, we have County B, where everyone over 40 has diabetes, the obesity rate seems like it's about 90%, STI's are rampant and there are currently 8 pregnant girls in the high school. What's the difference? I have been trying to figure this out. The medical care is exactly the same (it's our group). The physical infrastructure is not that different. But culturally, people in County B have this victimizing, back-biting mentality.
1 TrackBacks
Listed below are links to blogs that reference this entry: Yale demolishes its history.
TrackBack URL for this entry: http://www.batesline.com/cgi-bin/mt/mt-tb.cgi/5050
I just learned that the Yale, Oklahoma, Board of Education -- the school board in Jim Thorpe's hometown -- is demolishing its school auditorium, named in honor of long-time teacher Norma Velvin. That's bad enough, but what's worse is that they've left ... Read More