The Gift of Standing Up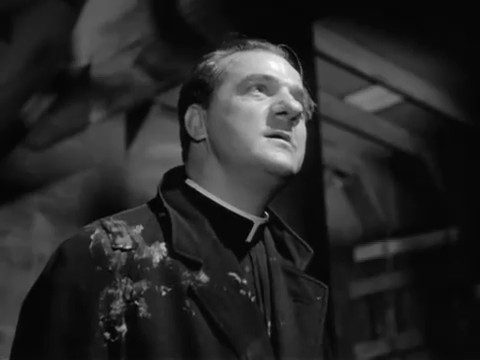 Alisa Harris posted a clip from the movie On the Waterfront on the World Magazine Blog in memory of Karl Malden. It's a powerful speech in which Malden, as Father Barry, gives last rites to a longshoreman who was ready to testify against the Mob and paid for his courage with his life. Father Barry finds in Christ the courage to take his own stand in the face of a hostile crowd. It had me in tears.
I came down here to keep a promise. I gave Kayo my word that if he stood up to the mob I'd stand up with him -- all the way. And now Kayo Dugan is dead. He was one of those fellows who had the gift of standing up....

Now what does Christ think of the easy money boys who do none of the work and take all of the gravy? And how does He feel about the fellas who wear $150 suits -- and diamond rings! -- on your union dues and your kickback money? And how does He, who spoke up without fear against every evil, feel about your silence?

You want to know what's wrong with our waterfront? It's the love of a lousy buck. It's making the love of the lousy buck - the cushy job - more important than the love of man. It's forgetting that every fellow down here is your brother in Christ. But remember, Christ is always with you - Christ is in the shape up. He's in the hatch. He's in the union hall. He's kneeling right here beside Dugan. And He's saying with all of you, if you do it to the least of mine, you do it to me!

And what they did to Joey and what they did to Dugan, they're doing to you -- and you -- you -- all of you! And only you -- only you with God's help have the power to knock 'em out for good!

(If you're reading this on the home page, you can watch the clip in the extended entry. Otherwise, scroll down.)
Less eloquently, I tried to make a similar point in my November 2, 2005, column in Urban Tulsa Weekly on faith and political courage:
But faith is more than reciting a creed or performing certain rituals. Faith involves confidence and trust. During a worship service you profess certain things to be true about God's nature and character. During the rest of the week, your true faith--what you really believe about God and his dealings with you and the rest of the humanity--becomes apparent in the way you live your life, and particularly in the way you deal with adversity.

For that reason, what an elected official really believes about God's nature and character affects how he conducts himself in office. Someone who has genuine confidence and trust in God as He is revealed in the Bible will have courage and persistence in the face of discouragement, danger, hostility, oppression, and injustice....

The usual pressure tactics won't succeed with the politician who reads and believes the Epistle to the Philippians. He turns his anxieties into prayers to his all-sufficient Father. You can threaten his job or his wife's job, but he reads that God will supply all his needs. You can threaten him with removal from office, but he is learning, with Paul, to be content in any situation.

You can threaten his reputation and position, but he is a follower and servant of Christ, who forsook his heavenly throne, "made himself of no reputation, and took upon [himself] the form of a servant." You can threaten his life, but he knows that "to die is gain"--the worst you can do is send him on to his heavenly home earlier than he expected. He expects to share in the sufferings of his Lord, but also in his Lord's resurrection.

If you're a Councilor steeped in Scripture you aren't going to be deterred when a big donor threatens to fund your opponent; when someone from the Chamber or the Home Builders corners you to cuss you out over a vote, or when the morning paper does another front-page hatchet job on you....

If we want elected officials who are fearless to do what is right, we ought to look for men and women whose character has been shaped by confidence in a God who is bigger than any adversary they may face.

MORE:
From 2005, some reactions to that column, including this from Councilor Rick Westcott, then a first-time candidate:
I also think that a person's faith gives them a sense of identity which helps ground them in times of trouble. Because I know who I am in Christ, who God made me, because I know He has a plan for me, it gives me a sense of identity that isn't shaken by those who might attack me. I don't need the external validation that some seek from others.
0 TrackBacks
Listed below are links to blogs that reference this entry: The Gift of Standing Up.
TrackBack URL for this entry: http://www.batesline.com/cgi-bin/mt/mt-tb.cgi/5112