District 5: For Bill Martinson, number cruncher, straight talker, grownup
As long-time readers are no doubt aware, I was not a fan of Bill Martinson's when he first sought and was elected to the Tulsa City Council. Martinson replaced Sam Roop in District 5 after Mayor Bill LaFortune hired Roop as his chief information officer. Martinson was the candidate of the bunch that was trying to break up the Gang of Five, the Cockroach Caucus that wanted to deflect attention from Great Plains Airlines mess and to grease the tracks for long-term water deals to fuel suburban growth. The same bunch targeted two members of the reform alliance for recall.
Martinson won a seven-candidate special election, an election with no primary or runoff, with just under 29% of the vote and by a margin of only 11 votes over his nearest rival. His re-election bid a year later against Jon Kirby was close enough to result in a lengthy court case.
During his first year or so on the council, he seemed to fall in line more often than not in opposition to the reformers. His persistence in opposing the Tulsa Hills TIF, even after his stablemates (Bill Christiansen, Randy Sullivan, Tom Baker, and Susan Neal) dropped their objections, was a surprise, but looking back he was only doing then what he has done more recently on the City Hall deal, the downtown ballpark deal, and the budget -- asking for more time to analyze the numbers.
In February 2006, he was, however, part of the 6-2 majority in support of a one-year moratorium on the use of eminent domain for private redevelopment. The reform councilor who proposed that moratorium -- some guy named Medlock -- told me not to pigeonhole Bill Martinson as a good ol' boy. Martinson had an inquisitive, analytical bent. He wasn't going to be just another rubber stamp for the establishment. Medlock was right.
Over the last two or three years, I've found more and more to appreciate about Bill Martinson's service on the City Council. His analytical strengths as a CPA emerged in a March 2007 presentation called "Municipal Revenues and Fiscal Constraints", which explained how city finances were being squeezed on the one side by rising personnel costs (and even then identifying growing public safety budgets as a concern) and on the other side by revenue constraints, including county government's emerging use of sales tax as a revenue source. Martinson understood the significance of fairgrounds annexation to city finances, marshaled the financial case in favor of it, and supported it consistently.
Martinson made a thorough analysis of the data provided by the Staubach Group about moving City Hall to One Technology Center, drawing on his experience in the commercial real estate industry, and his hard work informed my commentary on the proposed move. In the end, unfortunately, Martinson, like 7 of his 8 colleagues, couldn't muster the gumption to oppose the parade of the great and the good that Kathy Taylor assembled to speak in support of the Borg Cube.
But I think that's the last time I've seen Bill Martinson blink on anything. On the ballpark assessment district, the streets package, and now on the budget, Martinson has been willing to let the data drive his decision making, regardless of the political pressure to deny reality. And he hasn't shied away from calling some very powerful people and institutions on their BS. Here are a couple of examples:
From May 2008, Martinson's response to a letter from Tulsa Metro Chamber leadership cautioning the City Council on moving forward with a streets package without the Chamber's approval:
Martinson responded the following day with a verbal smackdown, calling the Chamber's letter "offensive and disturbing."

Martinson wrote that the letter "conveyed a serious lack of understanding as to the development and status" of the Council's streets proposal, which spanned eight months and included "more than two dozen fact finding meetings" and "town hall meetings for all districts." "You and your staff were welcome to attend, and had you done so, I believe you would have found the meetings most informative.

"Your contempt for Tulsa's City Council was apparent in your comments. To assume that the Council and City staff would advance an initiative of this magnitude to the voters and ignore fundamental due diligence and statutory requirements is arrogant and absurd."

Martinson pointed out the "appalling level of ignorance" revealed in the letter, attaching two pages from the 2006 Third Penny sales tax proposal with big arrows drawn in to point to the $4.8 million set aside for replacement of the Boulder Ave. bridge....

"I must admit that I found your comment about [return on investment] on campaigns rather amusing considering your recent track record. Your temerity to condescend to the Council on voter behavior, when by definition, each City Councilor has a better record with the voters than the Chamber, again demonstrates an incredible level of arrogance."...

"You may consider it a novel approach, but I would rather tell the citizens the truth and let them decide rather than attempting to manipulate the outcome."...

"The Chamber appears fixated on glamour and glitz to enhance economic development."

From January 2009, when the editorial writers at the Tulsa World scolded the City Council for expecting to be involved in prioritizing the city's request for federal stimulus money:
"The mayor's hiding behind the skirts of the Tulsa World editorial board and has for some time," [Martinson] said. "I can tell you the Tulsa World editorial board does absolutely minimal research, if any research, on any topic that they write on."
Now Martinson has a target on his back because he dared to point out that Tulsa is spending more than our 2% general revenue sales tax to run only the police and fire departments, and that despite their growing share of the budget, the number of officers hasn't grown. In a letter to the FOP, Martinson wrote:
As I stated to both Chief LaCroix and Chief Palmer on Thursday night, my intent was not to attack, but rather to prepare both departments for a drastic decline in funding dictated by economic reality. Since Police and Fire have managed to consume 100% of our sales tax operating revenue, I feel they must be prepared to adjust their operating structure to keep expenses in line with those revenues. My proposal Thursday night accomplished just that. The choices were theirs to make and, despite the budget approved by the Council and their hopes to the contrary, they may still face those choices and sooner than they think....

The public safety unions have done a masterful job of dictating policy. This needs to stop and elected officials must assume responsibility for the Citizens....

The unions, Administration, and certain City Councilors argue that the only option in reduced funding is to reduce staffing. This is true only if they wish it to be. They, not I, nor the other three Councilors voting against the Mayor's budget view the issue with such limited perspective; a limited perspective certain to instill fear in the citizens and union members and sure to divide the City. Extreme measures can often be avoided with sufficient planning.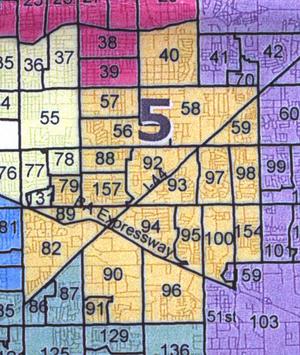 Martinson's opponent this go-round is Chris Trail. Mr. Trail was, as recently as March 4, 2009, a resident of Council District 4. Not District 4 in Tulsa, but District 4 in the City of Sand Springs, according to the address listed next to his $50 contribution to Mayor Kathy Taylor's re-election campaign. (Taylor's husband, Bill Lobeck, gave Trail $500 for his campaign.) The date of Trail's arrival in the district was a matter of dispute, but in any event, he is a very recent arrival.
Trail seems like an affable fellow, but it was obvious from my conversation with him at the Beer Summit that he is in way over his head, being used (shamefully) by some powerful people and interest groups who can't stand to have an intelligent, articulate, persistent city councilor in the way of what they want to do. You'll see the same thing if you watch Martinson and Trail in the District 5 League of Women Voters candidate forum. (Thanks to Dave Schuttler for getting video of that event.)
Tulsa needs more councilors like Bill Martinson, councilors willing to assemble all the facts and then honestly face up to the conclusions to which the facts point. If you're a Republican in Tulsa District 5, I urge you to vote to re-elect Bill Martinson next Tuesday.
But, as I wrote a couple of years ago, we won't have bold and honest councilors unless we help them get elected:
Ultimately, the election of bold and visionary leaders depends on our willingness as voters, contributors, and volunteers to support them, to encourage them even as entrenched interests try to knock them down.

When we back away because a politician has been labeled "controversial" and "contentious," we teach the lesson that boldness is bad, and we ensure timid, tepid leadership.

If our elected officials seem frightened of their own shadows, we have only ourselves to blame.