Peep, peep! Thomas the Tank Engine at Oklahoma Railway Museum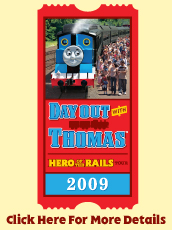 This weekend and next, September 25, 26, 27, and October 2, 3, and 4, 2009, Thomas the Tank Engine will be at the Oklahoma Railway Museum in Oklahoma City for a special "Day Out with Thomas" event. You'll be able to take a 25-minute train ride pulled by a full-sized Thomas the Tank Engine. Tickets are $18 on Saturdays and Sundays, $15 on Fridays.
Even when Thomas isn't there, the Oklahoma Railway Museum offers train rides, mainly during the summer, but there's one more chance this fall, the third Saturday in October. Admission to the museum only is free of charge; the museum has a collection of engines, passenger cars, freight cars, and cabooses.
The Oklahoma Railway Museum is on Grand, south of N. E. 36th, just a half mile west of I-35.