Auditor: For Preston Doerflinger
If you weren't convinced a year ago that Tulsa needed a new City Auditor, you should be now. The incumbent, Phil Wood, has held the job since 1988, and he's the only auditor we've had under the 1989 City Charter, which gave the Auditor's office a great deal of independence from the Mayor's office.
With the release of the external performance audit of the Public Works Department, it's clear that there has been a failure in the audit department: Evidently the auditors working for Phil Wood missed seeing important problems in their reviews of Public Works operations (possibly because they have been and still are understaffed), and problems that were identified in audit reports were never satisfactorily addressed by Public Works management.
In each case, the situation requires a City Auditor persistent, energetic, and vocal enough to get the resources the audit department needs to provide the oversight mandated by the City Charter and to push hard to see audit findings turned into corrective action.
The audit department has done solid work over the years, but many of their findings fail to get the public attention they deserve. As I wrote back in Februrary, we need the City Auditor to be willing to trumpet the results of his internal auditors' hard work, and to keep the pressure on the Mayor and the department heads to implement recommendations that will reduce fraud, waste, and abuse of taxpayer dollars.
The framers of our 1989 City Charter envisioned the auditor as a kind of "anti-mayor," a counterweight to balance the mayor's power over the executive branch of government.

Under Wood, the department has instead taken a low-key approach, quietly releasing audit reports to elected officials and department heads.

Wood has been a leader in making city government information, including audit reports, available on the World Wide Web. He funded and programmed his own Web site (cityauditorphilwood.com) providing access to city documents long before the city's official Web site was functional. All of his department's reports are available on his Web site.

But it's left up to others to make noise about important findings or to chide department heads for ignoring the auditor's recommendations.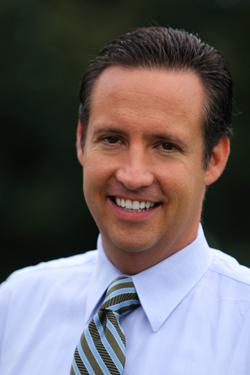 Preston Doerflinger, the Republican nominee for City Auditor, strikes me as having the kind of drive needed to turn the analyses of the internal auditors into action by city departments to make better use of tax dollars.
I started out endorsing Doerflinger in the primary, but after his campaign consultant's mendacious, last minute attack on Bill Martinson on behalf of Chris Trail (and, ultimately, Kathy Taylor), I retracted my endorsement and voted for his opponent.
After the primary, I met Doerflinger for lunch, along with Tulsa County Republican Chairman Sally Bell. We had a frank and lengthy conversation about my concerns as well as his thoughts on the auditor's office. Regarding his consultant, Doerflinger assured me that he would control what kind of campaign material went out under his name. He wouldn't give his consultants free rein to attack his opponent unfairly. So far, he's been true to his word; his mailers, broadcast ads, and website are focused positively on what he has to offer.
I asked him about an item in his background that had me scratching my head. He made no excuses for his many speeding tickets prior to 2001, but at my request he told me the context: They happened as he and a partner were getting their medical supply business off the ground. They were driving all over the state, making deliveries to nursing homes, trying to cover all that ground on their own until they grew enough to hire more drivers. It was irresponsible, but all that is far behind him now.
His campaign contributions have come from friends and business associates all over the state. Ordinarily, I prefer a candidate to get his money from his own district and his own constituents, but in the case of a City Auditor, there's something to be said for a candidate NOT being funded by people who might have a direct interest in city government.
It's rare for the Tulsa Beacon and the Tulsa World to endorse the same candidate, but both have endorsed Doerflinger. From the Beacon endorsement:
Tulsa's city government needs more accountability.

During Mayor Kathy Taylor's administration, two former managers in the Public Works Department were indicted for bribery for city contracts.

State officials accused firefighters and paramedics of falsifying training records.

Tulsa Transit's finances were so bad that the director was put on leave until the problems could be identified.

Someone needs to be watching how the city does its financial business.

Republican Preston Doerflinger is the man for the job.

A successful businessman, Doerflinger has the right business background to keep an eye on the affairs of the city.

From the World endorsement:
Again, Wood has done an overall good job in the office, but the recent dispute with the firefighters is evidence that a change is needed. Earlier this year Wood asked the Tulsa Fire Department employees about allegedly falsifying training records. The firefighters refused to answer a questionnaire from the auditor. Wood's decision to simply drop the audit at that point is unacceptable.

An ordinance recently passed by the City Council requires all city employees to answer questions from the auditor's office. That will help but it will take an auditor with the energy and will to follow through to make this issue and others come to satisfactory conclusions....

Tulsa needs an internal auditor, not an eternal auditor. Preston Doerflinger has the energy, the vision and the qualifications to get the job of auditor done.
I'm persuaded that Preston Doerflinger is the right man for the job at this time in our history. However unhappy you may be with the choices at the top of the ticket, you still have the opportunity on Tuesday to elect an aggressive watchdog for our shrinking city tax dollars.
Polls show this as a close race, with many voters undecided. Please join me in voting this Tuesday for Preston Doerflinger for City Auditor.
2 TrackBacks
Listed below are links to blogs that reference this entry: Auditor: For Preston Doerflinger.
TrackBack URL for this entry: http://www.batesline.com/cgi-bin/mt/mt-tb.cgi/5365
UPDATE 2009/11/08: I retract my previous retraction. I'm endorsing Preston Doerflinger for City Auditor. I am sorry that it has taken me this long to write about it here. (I don't retract my statements about his political consultants.) UPDATE 2009/09/0... Read More
Click the "continue reading" link to find links to helpful essays on BatesLine, my endorsements, voter information from the Tulsa County Election Board, multimedia, and candidate questionnaires, all to help you as you get ready to vote (post-dated to r... Read More