TU in the 1940s at Circle Cinema
Tonight (November 30, 2009) also brings another fascinating glimpse of Tulsa's past to the Circle Cinema in Whittier Square, Admiral Blvd. and Lewis Ave.:
RadioTU presents a screening of "Going to College", a film about life at The University of Tulsa in the forties, on Monday, November 30 at 7:00 pm at the Circle Cinema. The voice of Dr. Ben Henneke is heard as a high school couple visits classrooms, campus facilities, and Greek houses as they looked sixty years ago. Shuttles will depart from the south side of ACAC for the Circle, located at 3rd and Lewis, beginning at 6:30 pm. For more information, call the Circle Cinema at 585-3456.

Admission is free, and the event is open to the community.

The screening is sponsored by The Office of the President of the University of Tulsa, Public Radio Tulsa (KWGS / KWTU), and radioTU (student radio station at TU). The Circle Cinema Foundation was kind enough to donate the space at the Circle Cinema for the event.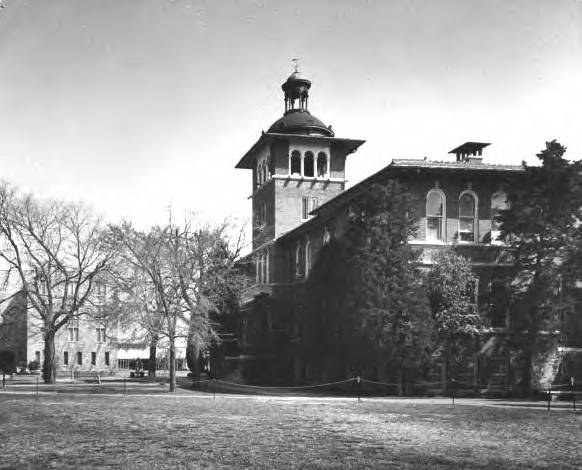 Photo of TU's Kendall Hall, 1950, from the Beryl Ford Collection.
0 TrackBacks
Listed below are links to blogs that reference this entry: TU in the 1940s at Circle Cinema.
TrackBack URL for this entry: http://www.batesline.com/cgi-bin/mt/mt-tb.cgi/5402