Paintings of Tulsa's beautiful buildings, in blog form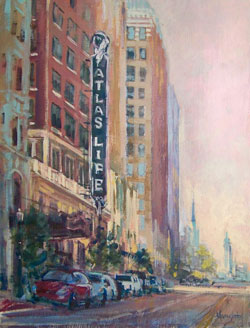 Amanda DeCort of the Tulsa Preservation Commission has a blog entry today about a blog devoted to paintings of Tulsa's buildings and streetscapes:
Local artist Celeste Vaught is on a mission to paint as many of Tulsa's fantastic historic buildings as she can. You can check out her "Brick X Brick" series by visiting her blog, http://celestevaughtart.blogspot.com/. Vaught's striking paintings have captured everything from the Atlas Life Building to the Phoenix Dry Cleaners.
In her "About the Artist" blurb, Vaught writes:
"How did you go from painting flowers and still life to painting buildings?" you might be wondering. As I was driving around Tulsa, I noticed, of all things, how many really neat old apartment buildings we have. It was Eugene Apartments, a striking white deco complex that began this journey of painting Tulsa architecture. I discovered a real passion for capturing the beauty of these structures. Tulsa is one of the best places in the world to see Art Deco Architecture. It's my goal to paint as many interesting Tulsa buildings before they disappear. I'll try to share a little history and some of the thinking/methods behind my paintings. For Tulsa natives, I hope you'll identify with each of the paintings and for those unfamiliar with our lovely city, may you be encouraged to visit soon!
A typical Vaught blog entries includes one of her paintings, the history of the featured buildings, and information on the composition and technique involved in capturing that moment and turning it into a piece of art.
The example above highlights the sign on the Atlas Life Building. Click the link to go to her blog entry and a larger image of the painting.
You can find out more about Celeste Vaught and her work on her website.