PLANiTULSA public forum, Tuesday, January 19, 2010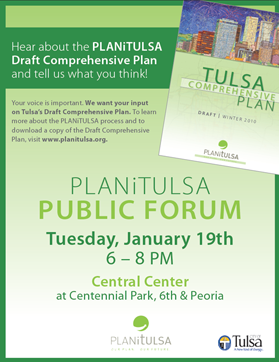 PLANiTULSA, the process for developing Tulsa's first comprehensive plan in a generation, will hold a public forum a week from tonight:
What: PLANiTULSA public forum, led by John Fregonese
Where: Central Center at Centennial Park, on 6th St. west of Peoria
When: Tuesday, January 19, 2010, 6:00 pm to 8:00 pm
Who: Open to the public

John Fregonese, head of Fregonese Associates, which developing the new comprehensive plan for the City of Tulsa, will present the basics of the draft comprehensive plan. There will be an opportunity to use "clickers" to provide instant feedback on key concepts. Light snacks will be served.
Before the meeting, take time to download the working drafts of the Policy Plan from the PLANiTULSA website, look them over, and send in your feedback. The Policy Plan is divided into five components: Land Use, Transportation, Economic Development, Housing, and Parks, Open Space, and Environment.