Tulsa ice forecast update, stocking up
The National Weather Service office in Tulsa posted another informative ice storm forecast briefing at 5 pm on Tuesday. This one is twice as long, shows the two weather systems that are on course to collide right over Oklahoma, explains some of the uncertainties in the timing of the storm, and goes into detail of the forecast timing of the arrival of rain, then freezing rain, then sleet, then snow around our region.
The local NWS office deserves praise for putting together an in-depth presentation in such a useful format. It's basically a Powerpoint slideshow with audio narration, using a software product called Articulate Presenter 6.0.1. You can easily skip back and forth between slides -- you don't have to sit through the entire 16 minutes to get the info you need.
(If you're clicking that link on Wednesday mid-morning or later, the briefing will have been replaced by an updated forecast.) (I enjoy using the future perfect tense when I have the opportunity.)
If the latest forecast holds, it's good news for Tulsa, terrible news for southern Okmulgee, Okfuskee, and Muskogee counties.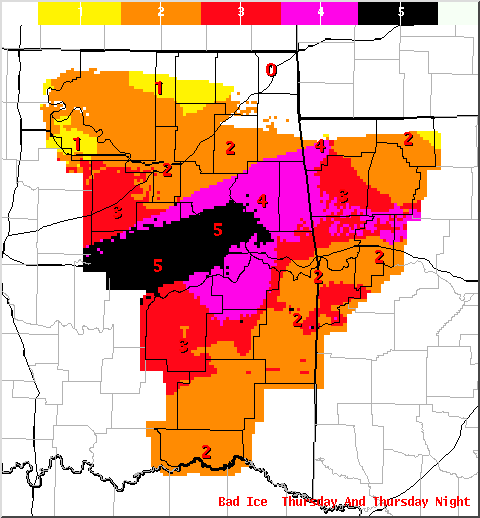 The black zones are level 5 on the 5 point Sperry Piltz Ice Accumulation index:
"Catastrophic damage to entire exposed utility systems, including both distribution and transmission networks. Outages could last several weeks in some areas. Shelters needed."
The latest briefing made the point repeatedly that the line between minimal ice and catastrophic ice could easily move a couple of counties north or south. It all depends on the movement of the storm, still off the California coast, and the timing of the arrival of the cold front.
GET READY: To help with your preparations, Tasha Does Tulsa has a list of what to have on hand during an Oklahoma ice storm. Tasha links to all the official sources and the standard lists (water, batteries, candles, non-perishable food) and adds several excellent suggestions drawn from her experience during Tulsa's last major ice storm in December 2007.