Bad ice, high winds, heavy snow on their way
It's gonna be bad. Ice -- enough, with the forecast wind speeds, to cause significant power outages of the sort we had in December 2007 -- followed by lots of snow and single-digit temperatures. At least, that's what our local weatherfolk are predicting.
Click the link to view a 7-minute weather briefing from the National Weather Service Tulsa office, from this morning (Jan 26, 2010) at 9 a.m.
Here's that ice accumulation map from the briefing.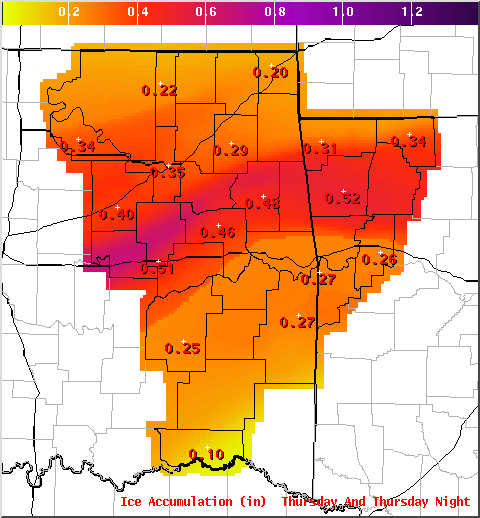 The storm that is expected to cause this mess is still over the Pacific Ocean, and how it moves once it hits land, and the timing of its arrival with respect to the timing of a cold front, will determine how bad the results are. This morning's National Weather Service briefing predicts about a half inch of ice and 7.5" of snow for Tulsa. The worst of the ice (but not as much snow) will be further southeast, following a line cutting through the heart of Okfuskee and Okmulgee Counties, northwestern Muskogee County, southern and eastern Wagoner County, western and northern Cherokee County, northern Adair County, and Arkansas' Washington County. Winds throughout the region are forecast to be about 25 MPH.
The ice and wind would combine to result in a Sperry-Piltz Ice Accumulation Index of 3 or more for all of northeastern Oklahoma (except for northern Osage, northern Washington, Nowata, Craig, Ottawa, Pushmataha, and LeFlore counties). That value is defined as, "Numerous utility interruptions with some damage to main feeder lines and equipment expected. Tree limb damage is excessive. Outages lasting 1-5 days."
For the band of the worst ice I mentioned above, their SPIA index is 4: "Prolonged & widespread utility interruptions awith extensive damage to main distribution feeder lines & some high voltage transmission lines/structures. Outages lasting 5-10 days."
Here's a map showing SPIA index values projected for Thursday/Thursday night: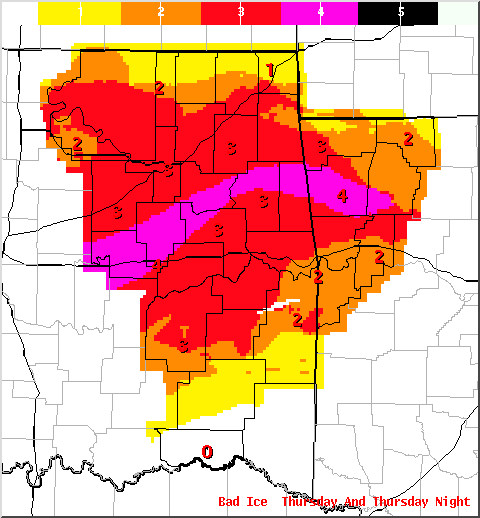 Alan Crone of KOTV News on 6 explains the storm and its likely impact.
Crone says right now the ice and sleet portion of the storm will most likely occur south of the I-44 corridor.

Freezing rain will eventually transition into sleet Thursday afternoon and then to snow Thursday afternoon and evening before ending Friday morning.

Crone says there are areas of northern Oklahoma which could see 12+ inches of snow. Snowfall near Tulsa could be from 8 inches to more than a foot.

Areas south and east of Tulsa will have lesser amounts of snow.
Other forecasts vary.
Weather Channel forecast for Tulsa shows an overnight low of 34 on Wednesday night / Thursday morning, but the temp dropping to 32 by 9 a.m. Thursday with rain becoming freezing rain.
Accuweather expects freezing rain off and on between noon and 6 pm Thursday, followed by snow -- possibly 9".
Here's what Intellicast says:
Details for Thursday, January 28: Mix of rain and freezing rain. Highs in the mid 30s and lows in the low 20s.
Details for Friday, January 29: Cloudy. Highs in the low 30s and lows in the upper single digits.
Will this be worse than 2007? Last time around, when our power went out, I sent my wife and kids off to the in-laws in Arkansas, where they never lost power. My recollection is that the roads were not that bad; it was just that the ice and wind were bad enough to take down powerlines. I hunkered down at home in front of the gas fireplace and took hot showers by battery-powered lantern. My office had power, and so did many stores and restaurants, so there were places to escape during the day. When my sister got power, I stayed one night (Wednesday) with them and planned to stay a second, but the power came on as I was stopping back by the house to pick up a couple of things. As bad as it was, it could have been worse. Hopefully it won't be that bad this time around.
But given that Tulsa is in that meteorological sweet spot between cold northern air and warm, moist southern air, and thus prone to ice storms, shouldn't we be thinking harder about burying those power lines?