2009 Okie Blog Award winners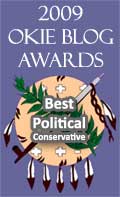 Just a quick note on the run: Many thanks to my fellow Oklahoma bloggers for honoring BatesLine with the Best Political Blog (Conservative) award. I'm particularly honored given the competition -- second place went to the excellent McCarville Report. (Happy anniversary, Mike and Ann!) And congratulations to the rest of the honorees for the 2009 Okie Blog Awards. I was especially pleased to see Dustbury honored as Best Veteran Blogger, Tasha Does Tulsa recognized with two awards -- best Tulsa blog and best culture blog -- and Erin Conrad Photography for best blog design. Irritated Tulsan had a couple of second place finishes, but as a weekly contributor he can claim a share of The Lost Ogle's Most Humorous Blog award.
I'd give more shout-outs, but I have to run. Thanks again to my fellow Okie bloggers for the great honor.
0 TrackBacks
Listed below are links to blogs that reference this entry: 2009 Okie Blog Award winners.
TrackBack URL for this entry: http://www.batesline.com/cgi-bin/mt/mt-tb.cgi/5519