How to be the wave -- and wash Dan Boren out of Congress
In the previous entry, I mentioned that there are congressional districts that could be competitive for conservative Republicans, districts which have voted for Republicans in the past, where the GOP challenger is a credible community leader. But they will only be competitive if volunteers show up to get the message to the voters.
One of those districts is right here in Oklahoma: The 2nd District, which covers the eastern third of the state. Although the 2nd District includes the Yellow-Dog Democrat territory known as Little Dixie, this is the district that sent Tom Coburn to Congress in 1994. The Cook Partisan Voting index is R+14.
The incumbent in Oklahoma's 2nd District is Dan Boren. Boren's record on taxation and the budget is abysmal, getting failing and near-failing grades from FreedomWorks, National Taxpayers Union, Club for Growth, Citizens against Government Waste, Americans for Tax Reform, and Americans for Prosperity. Whatever good he has done with centrist votes on social issues, he has undone by voting three times for Nancy Pelosi to be speaker, giving her leftist allies control of the legislative agenda. Boren voted with Nancy Pelosi to adjourn the House without extending the Bush tax cuts, set to expire at the end of the year.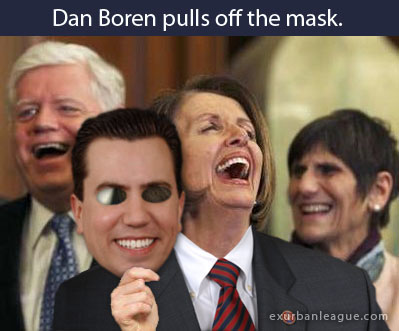 The Republican nominee, Charles Thompson, is a Gulf War Army veteran and a veterinarian. He serves as a school board member in Hulbert Public Schools. He believes in limited government. He won't support bailouts, tax hikes, cap-n-trade, or massive spending binges, nor will he vote for House leadership that does.
RealClearPolitics rates OK 2 as "Likely Democrat" -- in play, but just barely. Boren is a powerful political name in Oklahoma, and young Dan works hard to hide his association with San Fran Nan and her team of far-lefties who run the House.
I believe that if 2nd District voters get to know Charles Thompson andcome to understand that Dan Boren is an enabler for loathsome liberal legislation, they'll turn Boren out of office. Friendly face-to-face conversation is the most effective way to make that happen.
That's why I've chosen Thompson's campaign for the Be the Wave event that I'm sponsoring this coming Saturday. This is the closest opportunity to Tulsa to affect the margin of Republican victory in Congress. We'll gather at noon for a briefing and a bite to eat, pair off and hit the streets for a few hours, then reconvene to swap stories over a dutch-treat dinner.
We can not only help to rid Congress of another Democrat (and terminate an ambitious Democrat's plans for political advancement), we can also turn out conservative voters to support the whole slate of conservative candidates, like Scott Pruitt for Attorney General, Gary Jones for State Auditor, and Janet Barresi for State Superintendent.
If you think Thompson is too much of a dark-horse to be worth your time, by all means find another candidate to help. If you've got an unlimited long distance plan, you can make calls for any candidate in the country.
You can sign up with FreedomWorks PAC to help with their phone-banking effort on behalf of free-market conservative candidates.
RedState's Erick Erickson has a list of 99 candidates who could use your help, and he's highlighted 25 that he'd especially like to see elected.
Three of those districts are close to home: two potential GOP takeovers in central and northeastern Arkansas (Rick Crawford in AR-1 and Tim Griffin in AR-2), and a toss-up seat in southwest Missouri's 4th District, where Vicky Hartzler is working to retire Ike Skelton.
You might want to help Patrick Murray, who grew up in Oklahoma, is an alum of OSU, and recently retired as a colonel in the U. S. Army to try to unseat Jim Moran in Virginia's 8th congressional district. Moran is a nasty piece of work who recently stated that Murray's 24 years of active military duty didn't count as public service, screamed at his parish priest after mass, was accused of abuse by his ex-wife, and doesn't believe in capitalism or property rights.
It's not the battle for Congress, but right here in the Tulsa area, good Republican legislative candidates like Molly McKay, Kim David, and Jadine Nollan have a chance to capture open seats currently held by Democrats or beat a liberal Democrat incumbent. Statewide candidates need your support, too. We should be able to win every statewide office this year, but only if conservative voters turn out.
We've got some conservative candidates for district judge here in Tulsa County that could use your help: John Eagleton, Bill Musseman, and Jon Patton. All three are registered to vote as Republicans; their opponents are not. The bench at the Tulsa County Courthouse ought to reflect Tulsa County values.
I challenge every conservative BatesLine reader to take at least two hours between now and election day to volunteer for a campaign. I'd love to have you join me this weekend, but I'd be pleased to know that you're volunteering for any candidate.
Which candidate will you help during this last week of the campaign? Post a comment and let us know.
1 TrackBacks
In the previous entry, I mentioned that there are congressional districts that could be competitive for conservative Republicans, districts which have voted for Republicans in the past, where the GOP challenger is a credible community leader. But they ... Read More