Philbrook's Santa in the news
There was a nice feature in the daily paper on Thursday about the guy I've called Dad for the last four decades or so, but who's known around Philbrook this time of year as Santa Claus.
The Philbrook Museum's Festival of Trees is in full swing - and one jolly guy has been a star of the event for five years. Santa Claus, decked out in an elaborate red suit and full white beard, meets with children and happily allows them to sit on his lap for photos....

Bates became Philbrook's Santa in 2005.

"We love our Santa," said Karen Fraser, fundraising events manager at the museum. "He is so wonderful with everyone, always patient and ready to listen and smile."

Bates knows he has a good job at the Philbrook.

"It's one of the best places to be Santa because you have so many great kids come in," he said. "Most of the time they're really respectful of the property, and the best part is when you get a group of them jumping in your lap giving you hugs."
The article mentions the Santa conventions that he's attended. Over on his website, SantaTulsa.com, you can read his daily reports from the Celebrate Santa 2009 gathering and find links to an Urban Tulsa Weekly feature story on his Santa career and the tribute I wrote a couple of years ago.
Santa will be at Philbrook this weekend and next as part of the Festival of Trees. Come get your picture taken with him! For details, see the SantaTulsa.com website.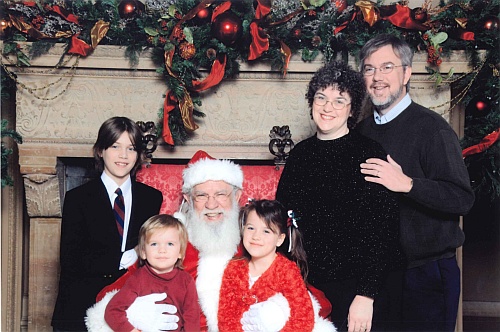 0 TrackBacks
Listed below are links to blogs that reference this entry: Philbrook's Santa in the news.
TrackBack URL for this entry: http://www.batesline.com/cgi-bin/mt/mt-tb.cgi/5868