Airman museum looking for memories, money
During one of my recent trips to San Antonio's Lackland AFB, on a lunch break, I visited the US Air Force Airman Heritage Museum. It's a modest facility with a monumental plans to preserve and display the history of the Air Force's enlisted men and women and the basic military training that shaped them.
The museum has exhibits tracing military aviation training over the last century. Exhibits include the fuselage of a Curtis Jenny in a replica of an aircraft maintenance shop of the sort they had at Kelly Field during World War I, uniforms from every decade (including early WAF uniforms), typical barracks arrangments from different eras, and many historic photographs. I was fascinated by a deck of World War II aircraft recognition playing cards, a bailout pass with a statement in Russian asking for assistance in getting to the nearest British or American military mission, and a full-page newspaper article on how to live comfortably and safely in a tent -- during the Korean War buildup, overflow trainees were housed in tents on base.
Since 1947, Lackland has been the "Gateway to the Air Force" for millions of recruits. The Air Force has set aside a plot of land near the main entrance, and a private non-profit, the Lackland Heritage Gateway Foundation, is working to raise the $25 million needed for a modern museum to house the memories of generations of airman trainees and officer candidates who trained there and the instructors that shaped them.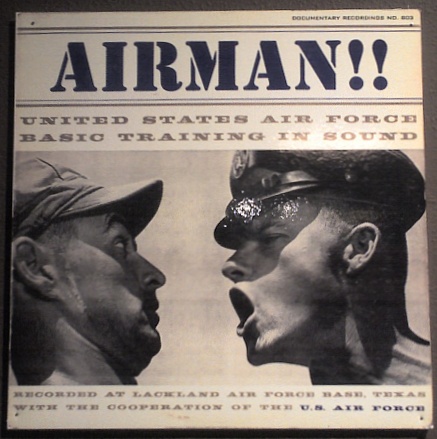 To contribute money, you can donate online or buy a brick paver for the new facility.
To contribute memories, the museum has a set of questionnaires for graduates of San Antonio Aviation Cadet Center (SAACC, the WWII forerunner to Lackland AFB), Basic Military Training (BMT), Officer Training School (OTS), and Officer Candidate School (OCS), as well as Military Training Instructors (MTIs). The questions are there to jog your memory about where you lived, the training you did, the food you ate, the people you trained with. Paper copies are available at the museum to be taken, filled out, and mailed back, but you may be able to get one electronically by making a request through the volunteer contact email address.
There's also an effort by the 37th Training Wing (37TRW) Office of History and Research to build a repository of Air Force BMT graduation flight photographs. Many of these photos are already online, but there have been over 100,000 training flights to date. At the bottom of that page are instructions for submitting a copy of your photo by mail or electronically.
MORE: On the Airman Heritage Museum Facebook page, they've posted a few photos of uniforms, aircraft on display, and a WWII era barracks relocated nearby.