Pendleton Family Fiddlers iTunes release party Friday
This Friday, March 4, 2011, the Pendleton Family Fiddlers will celebrate the release of their new album on iTunes with a Branson-style revue at the historic Spotlight Theatre, 1381 Riverside Drive.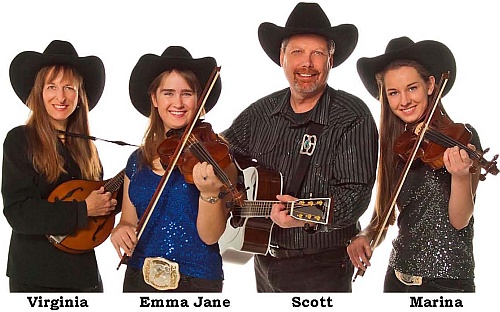 The show stars the Pendleton girls, Emma Jane and Marina, both champion fiddlers and yodelers, backed by mom Virginia on fiddle and mandolin and dad Scott on rhythm guitar, with guest musicians Jack Boydstun, Judge Porter, and Kenny Dunagan.
The program also features western musician "Cowboy Jim" Garling, "banjo-wielding singer-comedian" John Hansen, "Ragtime Bill" Rowland on the piano, comedian Travis Gregg, and saw player Jeff Stauffer.
The show begins at 7:30. Audience members will receive an autographed CD of the Pendletons' newly released song, "Wild Rivers Flow." Tickets are $15; for reservations call 918-587-5030.
It ought to be a fun night for the whole family. The Pendletons put on a great show of western swing and traditional cowboy tunes. Here they are with the "12th Street Rag":
UPDATE: Magician Roger Cornelison had been slated to appear but will be unable due to a family emergency.