Tulsa council redistricting draft plans
The City of Tulsa's Election District Commission has released five City Council redistricting plans (click to open the PDF) drawn up by Indian Nations Council of Government staff. The city must redraw the lines to produce districts of nearly equal population, based on the 2010 federal census.
Although the city's population didn't change significantly (it dropped by about 1000), the population did move around a good deal, with population losses in north and midtown Tulsa and growth in the south, continuing a 40-year trend.
To describe the five plans in words:
Plan I: Most stable for north and west Tulsa, radical changes in midtown. District 2 remains the same, District 1 adds downtown, District 3 adds Precinct 40. District 4 would add just about everything north of 31st, and District 9 would extend further east, as would District 7. This has the least population deviation, but 30 precincts move between districts.
Plan II: Most stable overall -- only 12 precincts and 21,725 people change districts. District 3 would lose two precincts that have been strong for Roscoe Turner over the years and gain some northeast Tulsa territory. District 4 would pick up the Owen Park and Crosbie Heights neighborhoods. District 8 would lose two precincts to 7 and 7 would lose two to 9. 2 would remain unchanged.
Plan III: This seems to produce more compact districts generally, but it does involve 36 precincts and 65,294 people changing districts. 4 would become long and skinny -- two miles wide and eight miles long, losing all territory south of 21st, and extending east to Memorial. 3 would lose three of Turner's best precincts on the western edge and gain territory as far south as 21st and Mingo. 2 would lose its territory south of 81st and gain three precincts around I-44 and Peoria.
Plan IV: The most radical plan of all, shifting 58 precincts and 110,917 people. District 4 would lose territory east of Yale, but extend as far south as 36th Street west of Lewis. 3 would lose its western precincts and gain everything east of Yale between 11th and Lynn Lane Rd. 7 and 8 would change from landscape to portrait orientation. 2 would gain precincts west of Peoria as far north as 36th Street, while losing its precincts northeast of 81st and Riverside.
Plan V: Identical to plan 2, except for Districts 7 and 8, which become north-south districts split at Sheridan. 8, which has always been the far-south district, would extend as far north as I-44.
At first glance, I'm inclined to back Plan II (pictured below), but I've got some thoughts on a better plan.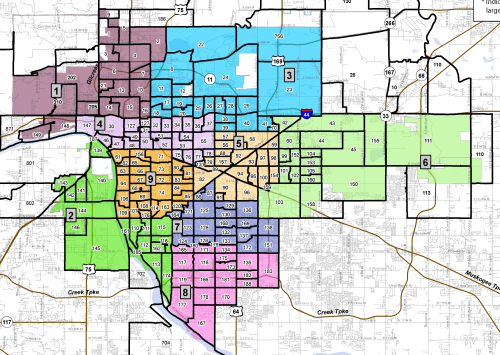 Thanks to Tulsa City Council aide Shannon Compton for sending me a copy of the plans so that I could make them available to the public for free. Previously, the plans had only been available online to subscribers to the daily paper. It seems to me that a citizen shouldn't have to go to a subscription-only website -- or to any privately-owned website, for that matter -- to view government documents. These plans and any future versions should be published on tulsacouncil.org and cityoftulsa.org, along with information on submitting comments about the draft plans to the commission. Shapefiles and datafiles for the maps and redistricting plans should be posted online as well.
Four public hearings on the proposals will be held around Tulsa:
| | | |
| --- | --- | --- |
| Monday, April 11, 2011 | 7:00 p.m. | Rudisill Regional (North) Library |
| Tuesday, April 12, 2011 | 7:00 p.m. | Hardesty Regional (South) Library |
| Monday, April 18, 2011 | 7:00 p.m. | Zarrow Regional (West) Library |
| Tuesday, April 19, 2011 | 7:00 p.m. | Martin Regional (East) Library |