Tulsa Playboys kick off Johnnie Lee Wills centennial year, September 10, 2011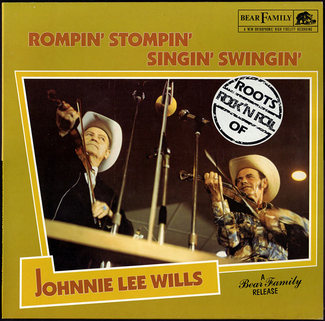 The Tulsa Playboys western swing band will be back at Cain's Ballroom, Saturday night, September 10, 2011, for a special performance to kick off the centennial of Johnnie Lee Wills, with featured guests John T. Wills (Johnnie Lee's son), guitarist Roy Ferguson and vocalist Candy Noe, and Billy Parker, legendary KVOO DJ (and a country performer in his own right).
Details from the Cain's Ballroom website:
"Swing On This" Live Broadcast
Saturday September 10th

DETAILS :: Celebrating Johnnie Lee Wills 99th Birthday! Brought to you by KWGS at The University of Tulsa! There will be a reception for reserved ticket holders from 5pm - 6:15pm. The reserved seats will be 4 to a table. For more info email p-casey-morgan @ utulsa.edu - All Ages! By phone - 866.977.6849!

TICKETS :: Reserved :: $47 // GA :: $30

DOORS :: 6:30pm

SHOW :: 7:00pm

The performance will be broadcast live for John Wooley's weekly KWGS program "Swing on This," heard every Saturday night from 7 pm to 8 pm on 89.5 FM.
When Bob Wills left for California in the early '40s, his next younger brother Johnnie Lee took over the daily radio show on KVOO and the Thursday and Saturday dances at Cain's Ballroom, which continued until the late '50s. Later generations of Tulsans may remember the annual Johnnie Lee Wills Stampede at the Fairgrounds or his western wear store on Memorial east of 21st.
The Tulsa Playboys are a group of top local swing musicians who play a monthly dance at Cain's. Here's the lineup listed on the Tulsa Playboys Facebook page:
Shelby Eicher - fiddle and electric mandolin, Rick Morton - fiddle, Steve Bagsby - steel guitar, Spencer Sutton - piano, Mike Bennett - trumpet, Steve Ham - trombone, Rodney Lay - bass, Ryan Shepard - drums and Danny McBride - standard guitar.
Bagsby, Bennett, Ham, and Sutton all played with Bob Wills' Texas Playboys, led by Leon Rausch and Tommy Allsup, at this year's Bob Wills birthday celebration.
Here they are from their July dance, with guest fiddler Byron Berline, performing "Miss Molly":
I've marked my calendar and plan to be there; hope you can be there, too. It would be wonderful if western swing dancing once again became popular enough around Tulsa to support weekly dances at multiple venues, like they have down around San Antonio.
MORE:
Read John T. Wills's tribute to Johnnie Lee Wills at the 1996 dedication of Johnnie Lee Wills Street, the main approach to the Pavilion from the west.
Johnnie Lee Wills entry from the Oklahoma Encyclopedia of History and Culture.
High Falutin' Newton of Western Swing on 78 has Johnnie Lee Wills radio transcriptions from 1950-1 available for download.