BOK Center street closures a pointless nuisance
This has been bugging me for a while; an item on tonight's council agenda brought it to mind again.
It's bad enough that the construction of the BOK Center permanently blocked 2nd Street, once part of a through pair of one-way streets (with 1st Street) connecting to Inner Dispersal Loop exits and entrances. It's bad enough that downtown west of Denver was already riddled with superblocks that break up the street grid and confuse visitors to downtown.
BOK Center management, with the monthly approval of the City Council, adds insult to injury by entirely blocking off 3rd Street between Denver and Frisco for every BOK Center event, no matter how minor.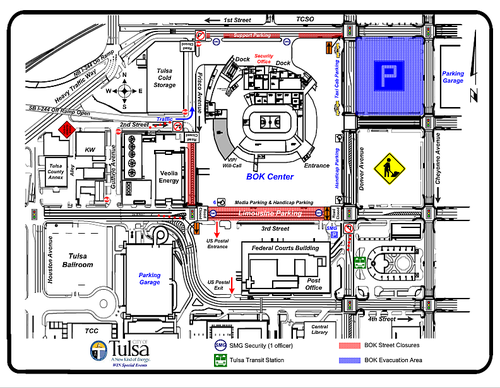 The BOK Center event application to the city, covering all November events, calls for closing, for 24 hours on each occasion, 3rd between Denver and Frisco for "Limousine Parking," Frisco between 2nd and 3rd (no purpose specified), a lane of traffic along the south side of 1st Street west of Denver for "Support Parking," and special curbside parking designations for handicap, taxi, and media parking.
Do we really need to block an arterial street for limousine parking for a minor league hockey game expected to draw (according to the event application) 3,000 people?
3rd Street links downtown to the Crowell Heights neighborhood, turning into Charles Page Boulevard and connecting other neighborhoods and businesses along the Sand Springs Line. During periods of construction and heavy traffic, 3rd Street is an important alternate route to the Keystone Expressway. Before the expressway system was complete, 3rd Street, as US 64 / OK 51, was the primary connector between Tulsa and Sand Springs.
While cars entering downtown on 3rd have an easy option -- divert onto 4th at Frisco -- leaving downtown on 3rd have to follow a circuitous route: north on Denver to 1st, west to Heavy Traffic Way, southwest to Houston, south to 3rd. The Heavy Traffic Way intersections are confusing -- it's easy to miss a turn and wind up on the expressway or heading across the river.
Exiting I-244 westbound at 2nd Street, a driver is forced to turn north at Frisco and loop around via 1st and Heavy Traffic Way and then finding some way back into the main downtown grid.
Tulsa has already devoted more than 400,000 square feet of land to the BOK Center. As you can see from the diagram, less than half of that footprint is occupied by the building itself. Surely they could carve out some of the unused area for limousine and support parking, and reduce the inconvenience to Tulsa's drivers, who are inconvenienced enough as it is.
MORE: Note that the BOK Center is expected to host only 10 events in November -- seven hockey games, two concerts (Reba McEntire, Zac Brown Band), and a kids show (Yo Gabba Gabba). Not exactly the wealth of entertainment we were promised. (George Jones, Lindsay Buckingham, Gretchen Wilson, Big and Rich, Kenny Rogers, and Ron White are all performing at Tulsa casinos between now and the end of the year. That's got to be siphoning off potential acts for the BOK Center.)
STILL MORE: The BOK Center website promotes a business called Rock and Bus, which provides luxury bus transportation between other cities and the arena for specific events. For the Reba concert, you can (potentially) catch the bus in Broken Arrow, Stillwater, Muskogee, Oklahoma City, Fayetteville or Fort Smith and pay between $25 and $40 round trip, arriving about an hour before the event and leaving shortly thereafter. (Each city needs 20 riders to get a bus.) It's nice for concert goers and for the BOK Center, but it does nothing for the other downtown businesses that the BOK Center was ostensibly created to help promote. There's no time for Rock and Bus riders to hit the Blue Dome or Bob Wills Districts for dinner or drinks before or after an event. (Presumably, Rock and Bus is one of the limos that gets to use blocked 3rd Street.)