Oklahoma's record Guy Fawkes Day quake: 5.6 magnitude
Another earthquake struck Oklahoma tonight at 10:53 p.m. local time on November 5, 2011. The USGS has designated it a 5.6 magnitude, the strongest Oklahoma earthquake on record.
If you felt it, please tell the USGS what you noticed by filling out a brief online survey.
At our house in Tulsa, it felt like a parade of heavy semis were rolling past, rattling the windows and ceiling fans, and making lightweight objects on the kitchen table tremble for a minute or so after the main shaking stopped. No damage, but it was strong enough -- stronger and longer than early this morning -- that we were all wondering what to do.
Peak ground acceleration in Tulsa was around 3 to 4% of g (gravitational acceleration on earth, or 3 to 4% of 32 m per second per second, which works out to ) with a peak ground velocity of 2 to 3 cm per second.
The nearest station to the epicenter reported 14.3177 peak ground acceleration and 12.868 cm/s peak ground velocity.
It was the ninth detectable quake of the day, starting with a 4.7 magnitude quake at 2:12 this morning, all in a small area between Sparks and Prague in Lincoln County, Oklahoma.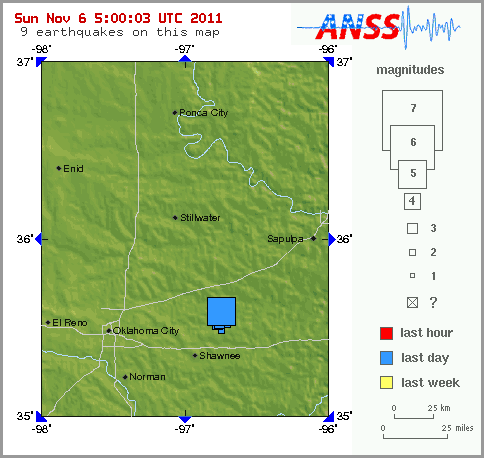 MORE:
Oklahoma Geological Survey, based in Leonard (east of Bixby), has a preliminary report on the earlier quake. It's not the first time there's been a quake here:
On November 5, 2011 at 2:12 AM CDT (07:12:45.4 UTC) an earthquake occurred in Lincoln County, Oklahoma. The earthquake was located at 35.548 N latitude and 96.763 W longitude with an error of about 2.0 km horizontally, at a depth of 3.1 km. The earthquake occurred about 6 miles northwest of Prague and 5.2 miles southeast of Sparks. The OGS determined a ML magnitude of 4.8 and the USGS currently has it at a magnitude 4.7 (Mb) these two numbers are essentially the same given the errors in calculating magnitude. Both the USGS and the OGS have determined a magnitude 5.2 mbLg for this event. This earthquake occurred very close to where a magnitude 4.3 earthquake occurred on February 27, 2010. From the location of the earthquake and the focal mechanism it is most likely that this earthquake occurred on the Wilzetta fault also known as the Seminole uplift. As of 3:30 AM CDT on 11/5/11 the OGS has received a few hundred reports. As of 7:00 AM CDT there have been more than 30 aftershocks associated with this earthquake.
2010 was a big year for quakes in Oklahoma County, too, big enough to constitute a "swarm":
The OGS located 1047 earthquakes in Oklahoma in 2010. 103 of these earthquakes were reported felt. The largest earthquake to occur in 2010 was the October 13 magnitude 4.7 earthquake which occurred near Norman, Oklahoma. This earthquake was felt from Kansas City to south of Dallas, Texas. The was also a magnitude 4.1 which occurred on February 27 in Lincoln County near Prague, which was felt through parts of Oklahoma and Kansas.

Oklahoma County continued to have a significant amount of earthquake activity associated with the Jones swarm. The OGS located 695 earthquakes in Oklahoma County in 2010, and of these 65 were reported felt. The largest earthquake to occur in the swarm was a magnitude 4.0 earthquake. The OGS deployed additional seismic instrumentation to the area in early 2010. This instrumentation has allowed us to determine a great deal about the earthquakes occurring in Oklahoma County. We have not discovered a cause for the dramatic numbers of earthquakes, but continue to examine the data.
HOW TO HANDLE AN EARTHQUAKE: Drop. Cover. Hold on.
DROP to the ground (before the earthquake drops you!),
Take COVER by getting under a sturdy desk or table, and
HOLD ON to it until the shaking stops.

The main point is to not try to move but to immediately protect yourself as best as possible where you are. Earthquakes occur without any warning and may be so violent that you cannot run or crawl; you therefore will most likely be knocked to the ground where you happen to be. You will never know if the initial jolt will turn out to be start of the big one. You should Drop, Cover, and Hold On immediately!