Remembering Pearl Harbor attack after 70 years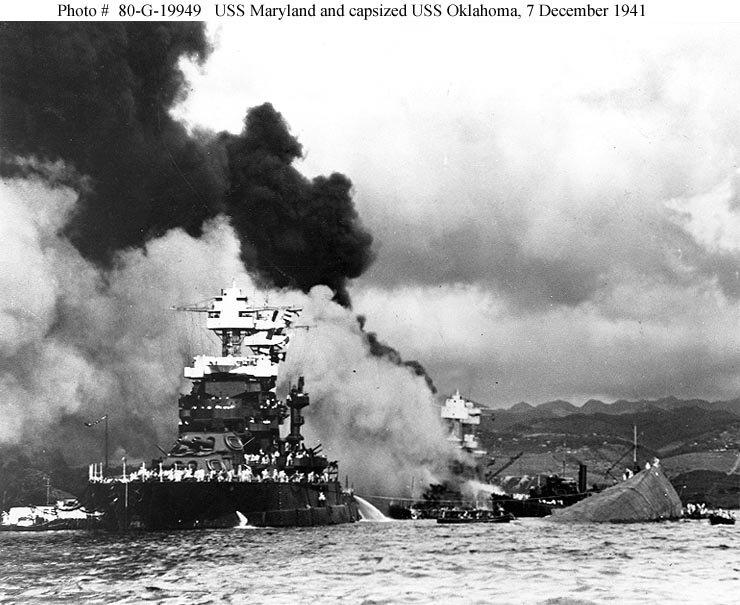 "Official U.S. Navy Photograph, National Archives Collection. USS Maryland (BB-46) alongside the capsized USS Oklahoma (BB-37). USS West Virginia (BB-48) is burning in the background."
Here are links to historical audio and photos and personal stories worth reading about the Japanese Empire's attack on the U. S. Naval Station at Pearl Harbor, Hawaii, on December 7, 1941, and the war that followed:
The USS Oklahoma was hit by torpedos and capsized that day, and 429 of her crew lost their lives. The Naval Historical Center has photos of the USS Oklahoma through the years, on-board and close-up photos of the USS Oklahoma's earliest days, photos of the Oklahoma after the attack, and photos of the effort to salvage the Oklahoma.
Major Van Harl tells the story of the day the USS Oklahoma died and those who died on board helping others to survive.
There is a website for USS Oklahoma survivors and family members, which has a photo of the USS Oklahoma Memorial on Ford Island.
KOTV News on 6 spoke to three Pearl Harbor survivors members of Tulsa's Last Man Club about their experiences. (Video at the link.)
[Retired Captain Bob Norman] Norman was 21 years old and serving on the USS Nevada when the Japanese attacked Pearl Harbor. He was in his quarters when the bombs hit, nine in all exploded on the Nevada. He remembers being surprised but says his men were ready.

"No, no, no, no...the word chaotic we didn't even know about. Orderly? Yes. We went to general quarters and everybody went to the battle stations," Norman said.

Gene Meeker was 18 years old and also in the Navy. He and Joe Allsup were at an air station on the other side of the island, 16 of his fellow airman died during the attack.

Meeker worries that the stories of Pearl Harbor are fading away as time passes, he hopes today's generation takes time to learn of that infamous day.

"It's history, that's what I can say, it's really history," Meeker said.

Norman agrees and says the lesson from Pearl Harbor is to always be prepared.

"The big word is be alert at all times to what's going on," Norman said.

KTUL spoke to Arles Cole, a survivor from the USS West Virginia.
He says December 7, 1941 started out as just a normal Sunday morning, none of them saw what was coming....

"I have to go back sometimes and pass by a lot of those memories," says Arles Cole.

He's visited Pearl Harbor many times but admits that to go back physically is a lot easier than going back emotionally.

"It's hard to go back in memory," says Cole. "I go back in nightmares, I go back in memories."

He still relives the scenes that are filled with loud noises, moments of death and shadows of his comrades.

"They are there, I see them, my friends," says Cole.

Earlier this year, StoryCorps recorded the memories of Waco, Texas, resident Frank Curre. He remembers that day vividly and wishes he could forget. He was cooking on board the USS Tennessee when the first blasts came. He was topside when the USS Arizona was hit and later that day was part of the effort to find the dead and wounded.
"That ship come 12 to 15 foot in the air, broke in two and settled back down," he says. "If you'd had a bag of popcorn and you'd went out here in the breeze and threw it up in the air -- that was bodies that went out all over that harbor."...

I still have the nightmares, never got over the nightmares. And with God as my witness, I read my paper this morning -- and right now, I can't tell you what I read. I can't remember.

But what happened on that day is tattooed on your soul. There's no way I can forget that. I wish to God I could.
December 7, 1941, radio reports from Honolulu station KGU, NBC, and CBS. The second KGU report mentions the USS Oklahoma.
Photos of the damage on ships at Pearl Harbor
(Photo and audio links via Ace of Spades HQ.)
Neoneocon reflects on the resolve of the American people in response to the attack and doubts that we are capable of the same will to victory today. She lists some little known quotes from FDR's speech the following day; hard to imagine those words in the mouth of a modern American president.
Despite the loss of life and armament in the attack, it could be said that America got off easy. blogger Bookworm's mother was a 17-year-old living in Java in 1941. Her story is one example reminding that the attack on Pearl Harbor was part of a larger campaign by Japan to dominate the entire Pacific. Preston tells of the indignity, deprivation, torture, rape, and murder suffered by the people of those lands that Japan occupied during the war, reminding us of what we were fighting:
The women were not decapitated, but they were subjected to terrible tortures. After the men were taken away, the women and children were loaded in trucks and taken to various camps. The truck rides were torturous. The women and children were packed into the trucks, with no food, no water, no toilet, facilities, and no shade, and traveled for hours in the steamy equatorial heat.

Once in camp, the women were given small shelves to sleep on (about 24 inches across), row after row, like sardines. They were periodically subjected to group punishments. The one that lives in my mother's memory more than sixty years after the fact was the requirement that they stand in the camp compound, in the sun, for 24 hours. No food, no water, no shade, no sitting down, no restroom breaks (and many of the women were liquid with dysentery and other intestinal diseases and parasitical problems). For 24 hours, they'd just stand there, in the humid, 90+ degree temperature, under the blazing tropical sun. The older women, the children and the sick died where they stood.

There were other indignities. One of the camp commandants believed himself to have "moon madness." Whenever there was a full moon, he gave himself license to seek out the prisoners and torture those who took his fancy. He liked to use knives. He was the only Japanese camp commandant in Java who was executed after the war for war crimes....

By war's end, my mother, who was then 5'2″, weighed 65 pounds. What frightened her at the beginning of August 1945 wasn't the hunger, but the fact that she no longer felt hungry. She knew that when a woman stopped wanting to eat, she had started to die. Had the atomic bomb not dropped when it did, my mother would have starved to death.
CORRECTION: I misidentified the author of the post about a mother living in Japanese-occupied Java. It was written by "Bookworm," a blogger for the Pajamas Media blog PJTatler; I saw the link when it was tweeted by Bryan Preston and mistakenly thought he had written the article.
THE REST OF THE STORY: Mitsuo Fuchida, the Japanese pilot who led the first wave of the attack on Pearl Harbor, became a follower of Christ in 1950 and a traveling evangelist, the result of reading a pamphlet by Jake DeShazer, one of the pilots in Doolittle's raid on Tokyo, who had become a Christian while in a Japanese prison camp and later returned to Japan as a missionary. DeShazer's pamphlet led Fuchida to read the Bible. Jesus's forgiveness of those who crucified him and DeShazer's forgiveness of his brutal captors led to Fuchida's conversion.
Though my country has the highest literacy rate in the world, education has not brought salvation. Peace and freedom -- both national and personal -- come only through an encounter with Jesus Christ.

I would give anything to retract my actions of twenty-nine years ago at Pearl Harbor, but it is impossible. Instead, I now work at striking the death-blow to the basic hatred which infests the human heart and causes such tragedies. And that hatred cannot be uprooted without assistance from Jesus Christ.

He is the only One Who was powerful enough to change my life and inspire it with His thoughts. He was the only answer to Jake DeShazer's tormented life. He is the only answer for young people today.

More about Fuchida and DeShazer in this Christianity Today story. Click here to read Jake DeShazer's remarkable story and the pamphlet he wrote that touched Mitsuo Fuchida's heart.