International Western Swing: Jiří Králík & Rowdy Rascals
Things are busy with a couple of projects, but I feel compelled to update this blog from time to time, so I thought I'd begin to document, one music video at a time, the international reach of western swing. Consider this series the beginnings of an invite list for Tulsa's International Festival of Western Swing.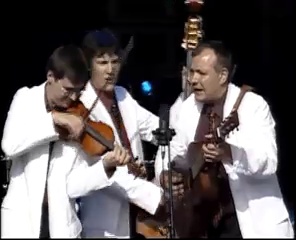 Here's a trio from Prague, Czech Republic, called Jiří Králík & Rowdy Rascals. (Jiří is the Czech version of the name George.) Králík is an alumnus of Mark O'Connor's fiddle school in Nashville, and he's finishing his studies at a jazz conservatory in Prague. Here they are, performing "Roly Poly," at the 2008 Country Rendez-vous Festival in Craponne-sur-Arzon, France.
And here they are with a high-speed version of Ida Red, with guitarist Jiří Bok taking the lead vocals:
Turnabout is fair play. You've had a Czech band playing American songs, so here's an American band playing a Czech song: Cracker, performing "The Shiner Song."