International Western Swing: The Swinging Hayriders
Number 3 in our review of international western swing bands, building an invite list for that dreamed-of Tulsa International Festival of Western Swing. From Malmö, Sweden, it's the Swinging Hayriders with the "Texas Playboy Rag":
From the "Band" page on their official website:
Swinging Hayriders is a band from Malmö in southern Sweden, specialized in Western Swing. They cherish the old records from the 30´s and 40´s of Bob Wills and his Texas Playboys, Spade Cooley, Milton Brown, Tex Williams, Patsy Montana and others. The attentive listener may also hear influences like Benny Goodman, Django Reinhard, Nisse Lind and Bill Haley. This great music will never grow old!

Swinging Hayriders are ready to fullfill their sacred mission, to spread the blessings of Western Swing!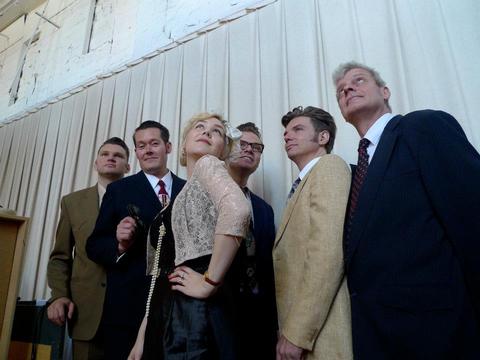 Here they are in a club setting, with vocalist Maria Stille this time, performing "You Can't Break My Heart":
You'll notice the crowd is mostly young people. They obviously love the music and are trying to dance to it, but they don't know how. I foresee a sacred mission to Sweden to spread the blessings of the Texas Two-Step.
The five-piece combo consists of steel guitar, standard guitar, piano (or accordion), bass, and drums.
You'll find several of their tunes, including "That's What I Like About the South" and "It's All Your Fault" on the Swinging Hayriders MySpace page. The most recent info about the band, and lots of photos (like the one above, from a recording session in Berlin) can be found at the Swinging Hayriders Facebook page.
MORE: Here's a scholarly article (PDF format) from the Journal of Texas Music History: "Texas Music In Europe" by Gary A. Hartman of Texas State University - San Marcos. The author visited France, the Netherlands, Germany, and Lithuania, talking to musicians who play western swing, bluegrass, honky tonk, zydeco, rockabilly, and other forms of American music found in Texas:
After discussing the mythology and folklore of Texas with the Bayer family, we all decided to attend a music festival in downtown Friedburg. Much to my surprise, there among the medieval walls of the "Altstadt," or "Old Town," we heard a local band of young Germans singing the Texas dance hall favorite, "Corrine, Corrina," in a strong Bavarian dialect. Although it is unclear exactly where this song originated, it was popularized among white country audiences by Bob Wills in the 1940s and now is a standard tune for western swing, country, and even many cajun bands throughout Texas. In any case, it was an extraordinary experience to witness how this song had found its way into the repertoire of a youthful folk-rock group singing in a Bavarian dialect that is rarely heard outside of southern Germany.