Riders in the Sky at Cain's, April 14, 2012, for National Fiddler Hall of Fame Gala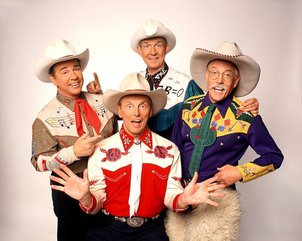 The world's premier cowboy band, Riders in the Sky, will perform at this year's National Fiddler Hall of Fame gala on April 14, 2012, at Tulsa's historic Cain's Ballroom. The Riders' fiddler, Woody Paul, the King of the Cowboy Fiddlers, is one of this year's inductees into the hall of fame, along with championship fiddler Herman Johnson, from Shawnee; the late Keith Coleman, who performed with Leon McAuliffe and His Cimarron Boys and Bob Wills and His Texas Playboys; and the late Kenny Baker, of Bill Monroe's Bluegrass Boys. Tickets for the gala are on sale.
Riders in the Sky is one of our family's favorite musical groups: Beautiful harmonies on authentic songs of the west, classics from western movies, and original songs in the same genre, seasoned with comedy. I wish their weekly show, Riders Radio Theater, with its weekly western serial, were still on the air here. Riders Go Commercial has been played often at our house lately. (The thought of attending geezer training school seems more and more appealing every day.)
Here's Riders in the Sky, with Woody Paul playing and singing his original tune, "The Arms of My Love" (not a great recording here, but a beautiful song):
Here's Keith Coleman with a smoking solo on "Leon's Boogie," from an Ozark Jubliee appearance with Leon McAuliffe:
Here's a YouTube audio and still photo mix of Herman Johnson playing "I Don't Love Nobody."
And here's Kenny Baker with Bill Monroe and the Bluegrass Boys from 1971:
MORE: The National Fiddler Hall of Fame offers a "Lick of the Week," a weekly video demonstration of a fiddle lick you can add to your bag of tricks. Elsewhere on the site, you can find sheet music and audio for a few dozen traditional tunes.