Send a singing valentine!
The Augustine Christian Academy Show Choir will be delivering singing valentines next Tuesday, February 14, 2012.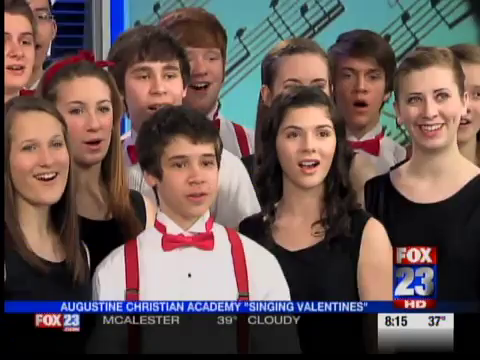 Are you looking for something unique and extra special for the ones you love this Valentine's Day? Let them be serenaded by a group of very talented singers from Augustine Christian Academy's Show Choir. Prices range from $25 - $40. We'll deliver a song, a personalized card, chocolates, and a special dedication to a location of your choice within the Tulsa area. Deliveries will be offered from 9:00 AM - 8:00 PM on February 14th. Order early to get your preferred delivery time! All orders must be received by February 13th! Get your Singing Valentine order form by CLICKING HERE, or pick one up in the school office. Please call Mrs. Gale Post at 918-852-2040 for more information.
Here's the group singing "Unforgettable" this morning on Fox 23 Daybreak:

The more you pay, the more precise you can be with the delivery time. Proceeds support the ACA performing arts program, which is producing Hello, Dolly, April 19 through 22, 2012.
0 TrackBacks
Listed below are links to blogs that reference this entry: Send a singing valentine!.
TrackBack URL for this entry: http://www.batesline.com/cgi-bin/mt/mt-tb.cgi/6326