Breitbart probes Obama's radical past, Malkin launches Twitchy
Undeterred by Andrew Breitbart's untimely death last week, his team at breitbart.com is carrying out their founder and namesake's vision with a relaunch of his websites and the first salvos in a serial exposé of Barack Obama's radical past, publishing materials that were withheld from the public in 2008, stories that the mainstream media chose not to pursue. The initial salvo includes a fulsome introduction of radical racialist Prof. Derrick Bell, video that Obama's law school mentor, Charles Ogletree, says was deliberately kept hidden in 2008.
The last piece written by Breitbart introduces the series with Obama's participation in a panel discussion following a play called "The Love Song of Saul Alinsky." The intro to Breitbart's last article explains the vision:
Prior to his passing, Andrew Breitbart said that the mission of the Breitbart empire was to exemplify the free and fearless press that our Constitution protects--but which, increasingly, the mainstream media denies us.

"Quis custodiet ipsos custodes?" - "Who guards the guardians?" Andrew saw himself in that role--as a guardian protecting Americans from the left's "objective" loyal scribes.

Andrew wanted to do what the mainstream media would not. First and foremost: Andrew pledged to vet President Barack H. Obama.

Andrew did not want to re-litigate the 2008 election. Nor did he want to let Republicans off the hook. Instead, he wanted to show that the media had failed in its most basic duty: to uncover the truth, and hold those in power accountable, regardless of party.

From today through Election Day, November 6, 2012, we will vet this president--and his rivals.

We begin with a column Andrew wrote last week in preparation for today's Big relaunch--a story that should swing the first hammer against the glass wall the mainstream media has built around Barack Obama.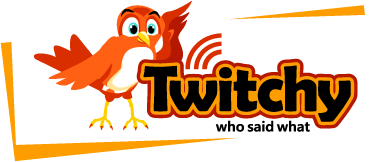 Meanwhile, conservative columnist and blogger Michelle Malkin has launched a new content aggregation service called Twitchy. The site employs a number of self-described "social media junkies" who mine Twitter 24/7 for stories of interest in U. S. politics, global news, sports, entertainment, and media. Several of the sites editors and contributors are bloggers I've had the privilege of meeting in recent years, including Jimmie Bise, Jr., who blogs at Sundries Shack, and Sarah Desprat.
I find that when I go to Twitter's site, I often see echoes of an important story, reactions to a big news item. Finding the actual story requires going back quite a ways in the timeline, something that new-new-new Twitter has made increasingly hard to do. And of course, any story more than a few days old is almost impossible to find on Twitter.
Twitchy fixes that. Twitchy provides an easily scanned arrangement of top stories on Twitter and elsewhere on the web. Click on a story box, and you'll get to a collection of tweets or a news story excerpt, with links for further reading and a place to leave comments. Twitchy items have a permanent link, so you can blog about them and link them and post them on Facebook and Twitter.
Best wishes and bona fortuna to the Breitbart empire and Michelle Malkin and company on their new ventures.