Happy St. David's Day
I had planned to post this first thing this morning, but computer problems prevented, and then grim news seemed more important. We all could use some music and laughter about now, I think.
The four countries of the United Kingdom are of such great antiquity that they can't mark a founding day or independence day as a national holiday, so instead they celebrate the feast day of their patron saints: St. Patrick's Day for Ireland on March 17, St. Andrew's Day on November 30 for Scotland, St. George's Day on April 23 for England, and St. David's Day on March 1 for Wales.
St. David's Day is traditionally marked by the wearing of a daffodil (now in peak bloom in Tulsa) or a leek on the lapel. The leek was worn by Welsh soldiers to identify each other in the midst of similarly dressed English invaders.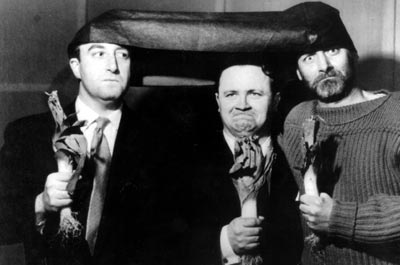 Other uses of leeks are not recommended.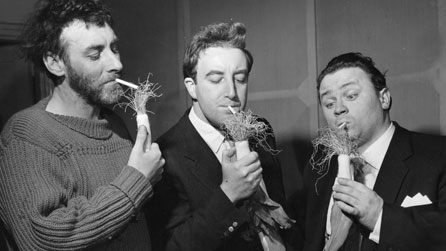 Photo from this BBC article about St. David's Day.
The Principality of Wales has been ruled by England since 1282, was officially annexed to England in the mid-16th century, and regained a degree of self-determination with the creation in 1999 of the Welsh Assembly.
I've spent all of a day in Wales, just enough to get a sense of what a beautiful country it is.
Wales is famed as a center of coal mining, as a place of religious fervor, and as a land of singing. In Wales even the Methodists are Calvinistic, and a religious revival in 1904-5 spread from Wales to the ends of the earth. In comedy, the Welsh are often portrayed with a sing-song accent.
Wales is home to one of the world's longest place names: Llanfairpwllgwyngyllgogerychwyrndrobwllllantysiliogogogoch. Yes, there are four ells in a row in that name.
Wales gave the world Tom Jones and Catherine Zeta Jones and a host of other Joneses, but one of my favorite Welshmen is the late comedian and tenor Harry Secombe. Secombe, the short and stout fellow in the photos above, played Neddie Seagoon in the Goon Show, the long-running BBC radio comedy that set the stage for the anarchic comedy of Monty Python. Prince Charles, the Prince of Wales, is one of the show's most enthusiastic fans.
No matter how grim things may seem, there's always an episode of the Goon Show available for a listen on the BBC Radio 4 Extra website. Highly recommended for your mental health.
In later life, he played the lead in Pickwick, the musical version of The Pickwick Papers and served as host of TV series with religious themes, including Highway on ITV and Songs of Praise on the BBC.
Here is a 30 minute biography of Secombe, an episode of the series Welsh Greats.
Here, from an episode of Highway, is Harry Secombe and the Treorchy Male Choir singing the hymn Guide Me O Thou Great Jehovah, known by the name of its hymn tune, Cwm Rhondda (Rhondda Valley).
0 TrackBacks
Listed below are links to blogs that reference this entry: Happy St. David's Day.
TrackBack URL for this entry: http://www.batesline.com/cgi-bin/mt/mt-tb.cgi/6359