Don Woods "gravely ill," "in good spirits"
Legendary Tulsa TV weatherman Don Woods is "gravely ill", but "in good spirits" according to a report on KTUL.com:
Don is now 84 years old. He spoke with Channel 8 News Director Carlton Houston Tuesday and says he's been in good spirits recently and enjoying the company of family and friends.
Don Woods was the meteorologist for KTUL channel 8 from its first sign-on in 1954 until his retirement in 1989, and every weathercast featured an impromptu cartoon of a character named Gusty illustrating the forecast. The cartoon would go to a lucky viewer whose name was announced on the air. Our wild weather is an inherently interesting topic, but Don Woods' lighthearted and friendly manner made it fun to hear about cold fronts and high pressure cells as he sketched them on the US map. I imagine I wasn't the only Tulsa kid inspired to ask for a home weather kit for Christmas by Don Woods and his KOTV contemporary Lee Woodward. It was a golden age for local TV, a time of homegrown creativity, replaced too soon by cookie-cutter consultant-driven content.
Woods often made appearances at churches and schools; I remember him doing a presentation at our little church sometime in the '70s, and everyone left with an original Gusty sketch. Since his retirement, Don has often appeared at the Tulsa State Fair and trade shows on behalf of a local company, drawing Gusty and visiting with the fans who grew up watching him. In 2005, Gusty was designated as the official cartoon of the State of Oklahoma.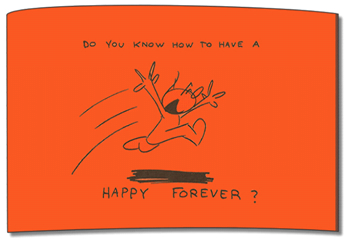 As concerned as he was about today's weather, Don Woods's greater concern for his audience is epitomized in the title of a little booklet featuring Gusty as its main character: "Do You Know How to Have a Happy Forever?" You can read the booklet online (in English, French, Spanish, and Russian), download a printable digital copy, or order copies in bulk to give away.
It was touching that the KTUL.com story made special mention of the booklet and provided a direct link.
Don wants everyone to know that Gusty -- who is now the official state cartoon of Oklahoma -- is still uplifting people and making them happy to this day.

Don is also well known for a little orange booklet. It's called, "Do you know how to have a happy forever?"

It features Gusty's message that God loves you. Over the years, Don has passed out thousands of these books around the world.

You can find information about the book at his website, www.gusty.us/books.htm. There, you can also leave a note of encouragement for Don.

You can also leave a message for Don in the comments on the KTUL.com story, and they'll be passed along to him.
Please join me in praying for Don Woods's health, and take a moment to leave a happy memory and a kind word for him.
MORE: Tulsa TV Memories has more on the history of TV weather in Tulsa, with an eight-minute TCC video of Don Woods reminiscing about his years covering weather on TV. I especially enjoyed hearing about the origins of Tulsa's first TV weather radar and the filming of the legendary "The News Guys" western-style promo.