Remembering Sue Tibbs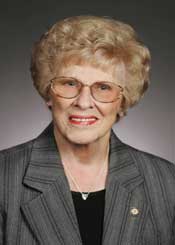 Oklahoma State Rep. Sue Tibbs, a Republican who had represented District 23 in east Tulsa since her election in 2000, died Friday, the end of a long battle with ovarian cancer. Because of term limits, this had been her final session.
Services will be held at 2 p.m., Wednesday, April 11, 2012, at Grace Church, 9610 S. Garnett. In lieu of flowers, donations in Sue's memory may be made to Free in Christ Ministries or Family & Children's Services Women in Recovery program.
Sue Tibbs was a gracious lady and a fighter.
I had the honor of seeing that grace and fighting spirit first hand, working with Sue Tibbs on several of her elections, including her second attempt at the seat in 1998, one which would set the stage for her election the next time around. Sometime that spring, I got a call from Sue's campaign manager. They had received a CD from the state GOP headquarters containing a database of voters; Rich Gradel, then the county GOP chairman, had told her I might be able to help turn the database into lists Sue could use for knocking doors, sending postcards, and making phone calls to likely voters.
Sue was trying to unseat the incumbent Democrat, Betty Boyd, a legendary and beloved local television personality. I recall gathering in the Tibbs home with Sue, her husband Homer, and a small but dedicated group of volunteers to plan out the campaign.
Sue worked relentlessly, going door-to-door in the hot summer sun to talk to voters. Although 1998 wasn't a particularly good year for Republicans nationally and despite the handicap of running against a household name and an incumbent with massive financial support from special-interest PACs, Sue lost by only 120 votes. The next time around, in 2000, Sue beat Betty by 417 votes.
She was reelected without opposition in 2002. In 2004, Sue beat a primary challenger, and, in the general election, she handily defeated the son of a prominent attorney who had been parachuted into the district by the Democrats to run against her. She was a Democrat target again in 2006 and 2008, winning by solid margins both times. In her final race in 2010, she took 67% of the vote.
One of Sue Tibbs' signature issues was voter fraud, a cause with its roots in what she witnessed in her 1986 campaign for House 23 against then-incumbent Kevin Easley. Each year she proposed a bill to require voters to show a photo ID, but passage had to wait until 2010, going directly to the voters, who overwhelmingly approved this basic fraud prevention measure and protection for the value of their votes. She lived to see the law in effect and the fear-mongering of its detractors disproved by experience.
Sue Tibbs was also a cosponsor of the constitutional amendment banning the use of sharia law in Oklahoma courts, another measure approved overwhelmingly by the voters, but blocked for now by the courts. She was honored last year by Eagle Forum of Oklahoma for her efforts.
A profile of Sue Tibbs last month by CapitolBeatOK highlights her efforts in the field of corrections reform. One of the bills she authored this year would make it easier for ex-cons to get certain state professional licenses, so that only past offenses relevant to the license sought would block an applicant.
She continued with reflections on priority issues, saying she is intensely focused on "the prison reform area. Being able to recognize that some people have made mistakes and wish to have a second chance, giving them that opportunity and truly seeing these programs work, changing lives for whole generations....

"I truly believe Oklahoma needs to rewrite our criminal code. Kansas compares in population with Oklahoma and, a few years ago, decided they needed to rewrite their code.

"Their prison population dropped, saving Kansas taxpayers an incredible amount of money. This money was then able to spent on other services, or returned to the taxpayers.

"Oklahoma spends about $500 million a year on Corrections funding, believing we were getting smarter on crime, when in fact we weren't. We live in the Bible Belt where we believe in forgiveness and second chances. We must continue to work toward that end, not re-election."
State Rep. Pam Peterson, who shared an apartment with Tibbs for many years during the legislative session, said:
"She is an amazingly loyal person. When she's with you, she's with you.

"When she speaks on the floor, everybody listens. She is greatly respected. She's not flashy. She speaks very intentionally. She has power and influence because of who she is.

"The tenacity of the woman is just incredible. She's not the youngest member but she could run circles around many of the others, including younger members."
Our prayers are with Homer and their daughters and grandchildren for comfort in their loss.
MORE:
State Rep. Jason Nelson has details of services for Sue Tibbs and his own remembrance.
0 TrackBacks
Listed below are links to blogs that reference this entry: Remembering Sue Tibbs.
TrackBack URL for this entry: http://www.batesline.com/cgi-bin/mt/mt-tb.cgi/6413