Made-in-Tulsa movie set for international release
A homegrown feature film, The Rock 'n' Roll Dreams of Duncan Christopher, already the recipient of multiple awards on the film festival circuit, has been picked up for international release by a division of Warner Brothers. This is a big milestone for Tulsa and a feather in the cap of the Tulsans who made this movie happen. The comedy, rated PG-13, will premiere at 8 p.m., Thursday, May 10, 2012, at Riverwalk Movies in Jenks.
The movie was filmed locally, written, produced, directed, and acted by Tulsa talent.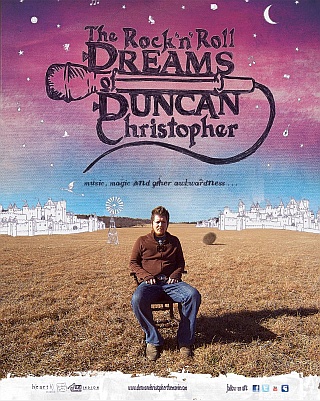 From the news release:
Oklahoma Film Gets International Release and Debuts in Theaters

TULSA, Okla. -- The award-winning, Oklahoma feature film, The Rock 'n' Roll Dreams of Duncan Christopher, is slated for international release on May 15th, but first, fans will enjoy the film on the big screen with a Tulsa premiere on May 10th.

City Councilor and local restaurateur, Blake Ewing, who also served as an Associate Producer on the film, is excited by what this means for the state and the city.

"I think this is great for the future of Tulsa," said Ewing. "It's one more project that continues to establish our city as a viable artistic community in the United States. I am extremely proud to have been a part of such a successful film and soundtrack that celebrates Oklahoma so passionately."

The film, directed by Tulsa native Justin Monroe, is a quirky and endearing comedy that tells the story of the awkward and mostly untalented Duncan Christopher, who, after an early mid-life crisis, moves to the big city of Tulsa to pursue his rock 'n' roll dreams and face his demons in the brutal underground world of competitive karaoke.

After successfully touring the film festival circuit in 2011, Monroe is thrilled to announce the full, international digital distribution of his movie. Gravitas Ventures, a division of Warner Brothers, eagerly picked up the film and has slated it for a May 15th release.

"It was our dream to shine a light on Oklahoma, to reveal the beauty and heart of this place," said Monroe. "When we left Hollywood to come back home, we hoped to create a unique, heartful, and infectiously fun movie that could communicate across a wide demographic, across social-economic borders, and across oceans. Finally being at this moment, where a company as significant as Gravitas has now picked up the movie and will be taking it to the world - well, it's pretty amazing to say the least. Honestly, it's a dream come true!"

Moviegoers can order the film now on iTunes and can screen the film on other platforms like Netflix, Amazon, AT&T U-verse, Blockbuster on Demand, and Hulu after the release. Fans can also purchase the DVD after the initial release, which will include tons of extras, like bloopers, deleted scenes, "Duncan's inspirations" and more.

The theatrical screening will take place at 8 p.m. on Thursday, May 10th at Riverwalk Movies in Jenks.

As you can see from the trailer, the movie shows off Tulsa to good effect; Cain's Ballroom, the Gypsy Coffee House, and River Parks are among the landmarks featured.
MORE:
Duncan Christopher on Facebook
Duncan Christopher on Twitter
Duncan Christopher on YouTube