Primary night at Sullivan HQ
We pulled into the Sullivan HQ parking lot shortly before 9 p.m. on election night.
We were just coming back into Tulsa after five days away. We voted Friday morning at the election board, then headed southwest to hear the magnificent final performances of the choir and orchestra at the Oklahoma Summer Arts Institute at Quartz Mountain Resort and to pick up our oldest son at the end of his two-week stint in the choral program -- it had been literally and figuratively a mountain-top experience for him.
From there, we drove a few hours south into Texas cotton country for a couple of quiet days with my wife's relatives, playing Chinese Checkers and Wahoo and stirring up memories of the '20s, '30s, and '40s -- hard times but good times. By being away from home for election day and the previous weekend, we missed (but not really) the last-minute barrage of robocalls and mailers.
Tuesday started with breakfast with my wife's aunt and uncle (sausage patties, fresh biscuits, apricot preserves, cantaloupe), a game of Chinese Checkers, a lesson by my wife's aunt on how to crochet a potholder. Then a round of goodbyes, a drive by town landmarks, photos by the giant bug sculptures made of car parts, an impromptu visit with a local musician at his studio on the square, lunch at Sonic, a drive by the long-abandoned family homestead, and the long drive north, listening to Johnny Gimble and Riders in the Sky.
We had been listening on the radio, so as we pulled into the parking lot, we knew that the 1st District race was close with the lead changing hands, and we knew that results were very slow arriving at the Tulsa County Election Board. When we walked into HQ, where the watch party was being held, it was clear that they knew more. I walked over to a screen showing a spreadsheet. Runners had picked up results from most of the big precincts, revealing that turnout was incredibly low, and Sullivan trailed Bridenstine in most of them. It was close, and a win was still possible, but it didn't look promising. I ran my tired family home and came back.
I spotted Congressman Sullivan and went to shake his hand. John gave me a hug and thanked me for my help. The mood in the room was somber but calm, a mood that emanated from the candidate himself. No one uttered any angry words; there were no recriminations or second-guessing -- not even the kind of frustrated groan you let out when the Sooners fumble the ball in a bowl game. If voters could have somehow fore-seen the dignity with which John Sullivan would handle his defeat, it would have discredited the demonic caricature painted by his opponents' supporters.
The only frustration was with the slow trickle of official results from Tulsa County. The election board still didn't have air conditioning, we heard, and that seemed to be slowing everything down. John was ready to concede whenever the moment was right, but no one wanted him to take that step while there was still a chance that the race could turn around. The election board delays pushed the moment of certainty further into the night.
At some point in the proceedings, someone brought in a full-sheet chocolate cake with an outline of Oklahoma and the phrase, "I've got the Okie in me," in frosting on the top. I got to meet Conservative Bixby Chick and her husband; they were motivated to help Sullivan after they met his opponent.
At about 11:20, the precinct map begin to fill in more rapidly, and the incumbent fell further behind the challenger, not by much, but by enough to put the result beyond doubt. John Sullivan and family gathered in the back room, John called to congratulate the winner, then John and family walked through the main room to the applause of supporters and the relief of the long-suffering TV news crews.
John's statement was short, self-deprecating, and gracious, expressing appreciation for the privilege of representing the 1st District, congratulating the winner, and reminding everyone that he'd be on a plane the next morning at 8:30, headed back to Washington to do the job that's still his for the next six months.
And then it was over. John and family headed home. John's mom and mother-in-law picked up what was left of the food they'd brought. Rented chairs and tables were folded and stacked and the floor was swept of red, white, and blue confetti. And then I headed home to unpack from the trip, start some laundry, and check email.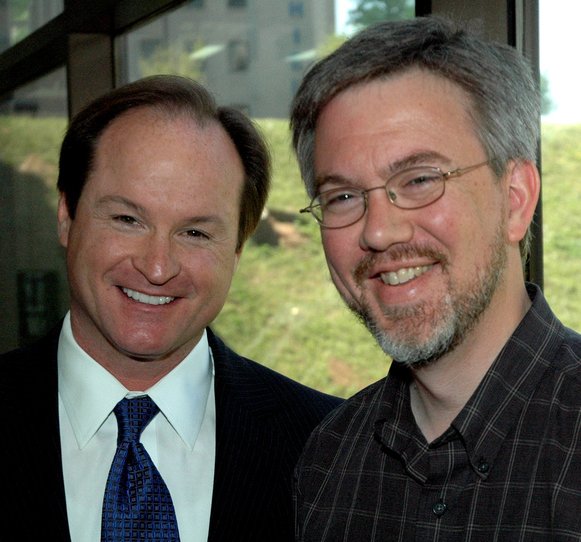 It was a strange feeling. Ten and a half years earlier, I had been part of an insurgent campaign that had come from third place to beat the establishment favorite, the First Lady of the State of Oklahoma. Countless insurgent campaigns since then had fallen short, but now, in 2012, another one had succeeded, with me on the other side from many of my usual friends and allies.
But I don't regret remaining loyal to someone who has been loyal to me and in nearly every case a good representative of my views. (Yes, Sullivan voted for TARP, but so did Coburn, and Heritage and AfP urged its passage. Yes, Sullivan endorsed the River Tax, but Medlock endorsed Vision 2025 -- he and I were even on opposite sides of a debate -- and yet I still supported him through recall, his challenge of LaFortune, and his state house race.)
How does a conservative Republican get beat in a primary in a conservative district? Perhaps his supporters were complacent, couldn't believe he could be beat, and didn't bother to show up. There was no senate or governor's race on the ballot. It was a hot day, and it was the first time the primary had been held in June, the earliest date in state history. Turnout was 15% lower district wide than in 2010, 17% lower in Tulsa County, 20% lower in Washington County, and 8% lower in Wagoner County. We should know in a few days who the missing voters were.
I can't help feel that the Tea Party was hijacked in this election. There have been certain people trying to take out John Sullivan since shortly after his first re-election in 2002, actively looking for candidates to run against him. Their issues with him mainly seemed to be personal, not political. This time they tapped into Tea Party energy and convinced them that the most conservative member of Oklahoma's House delegation was a lazy RINO. They succeeded in replacing a conservative congressman who voted 91% of the time with a conservative (as far as we know) nominee who voted 22% of the time; meanwhile Democrat tax-hikers went unchallenged and Tea Party candidates for the legislature fell well short of defeating the corporate welfare crowd that failed to cut our income tax rates this year. Had all the effort expended on the congressional race been targeted instead on legislative races, it could have changed the State Capitol for the better.
In any event, Jim Bridenstine is the nominee. We have to vote for him in November, because Republicans must keep the House, while gaining the Senate and the White House, to have any hope of repealing ObamaCare and replacing it with a sustainable, free market health care solution, and we can't afford to lose a single seat.
And because of this Bridenstine will likely face an immediate challenge: The NRCC will want to come in, displace the team that won the nomination, and take over the running of the campaign. Sullivan was hit with this after his 2001 special primary win, and he allowed NRCC to advise, but he kept his victorious team in place and in charge.
I'd expect another challenge, too; expect Bridenstine to be wooed by the big local donors, who may want him to ditch some of his campaign team. How he handles such a situation, should it emerge, will tell us much about the kind of congressman he'll be. We'll see very quickly whether his political courage is genuine or just a pose.
MORE:
Roll Call reports on Sullivan's defeat: "I never had a race like this in all my life. The only mistake I made was I ignored it for too long."
The TeaPartyCheer website has John Sullivan's bios from his congressional website and his campaign website. There's a lot of positive material there about his work in Congress that didn't seem to have been presented in the campaign.
0 TrackBacks
Listed below are links to blogs that reference this entry: Primary night at Sullivan HQ.
TrackBack URL for this entry: http://www.batesline.com/cgi-bin/mt/mt-tb.cgi/6493