Vote for Jarrod and Jaime in the Union Pacific 150 jingle contest
The Union Pacific Railroad is celebrating its sesquicentennial this year, and as part of the celebration, the UP is asking people to try their hand at remaking the "Great Big Rollin' Railroad" jingle used in early '70s UP TV ads. The grand prize is $15,000, and there's a monthly prize of $1,000 for the video that has the most "likes" at the end of the month. A Tulsa couple is in a close race for the June prize with a sunshiny, pop remake that will keep you smiling for the rest of the week.
The lyrics are by Bill Fries, the music by Bob Jenkins and Dick Proulx. Fries, an ad copywriter, went on a few years later, under the stage name C. W. McCall, to team up with Chip Davis on a hit song called "Convoy."
Here's the original version, from 1970, filmed in North Platte, Nebraska, using UP employees (some with very big hair indeed) singing a line of lyrics each.
Tulsa musicians Jarrod and Jaime Gollihare are either in 1st or a close 2nd for the June contest. Jarrod is the drummer with the power-pop band Admiral Twin; you may also remember him as a writer for Urban Tulsa Weekly. Their version of the song features the two of them in their mid-century modern apartment playing glasses, suitcases, bottles, a squeaky door, blinds, a pie plate, slide guitar, ukulele, and a xylophone. It's a catchy arrangement with clever visuals (including, briefly, the animal masks you see below). I'd love to see and hear more videos like this one from Jarrod and Jaime. (Maybe a remake of "Tulsa Straight Ahead"?)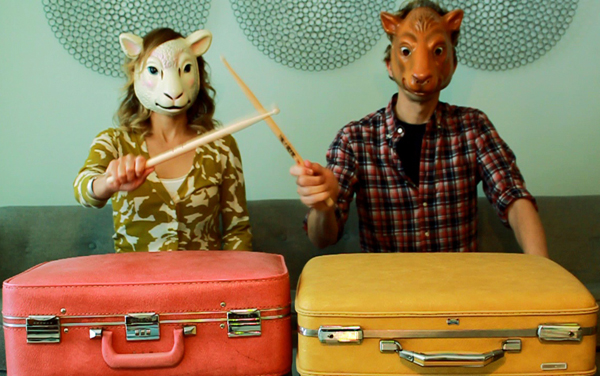 As I write this, Jarrod and Jamie have 196 likes, just two behind the leader. I hope you'll take a minute to click through, listen, and show your support by registering and liking their video.