"Come to Me All Who Labor"
Way back in 2003, when this blog was in its infancy, I wrote about a weekend visit to Fayetteville, Arkansas, for a reunion of alumni of the New Creations, University Baptist Church in Fayetteville's collegiate choir. My wife sang with the group throughout her time at the University of Arkansas. During the reunion, long-time director Tanner Riley led a massed choir of alumni in several oft-performed songs.
I needed to hear one of those songs again today; perhaps, at the end of a hard week, you do, too. It's by John Purifoy, and it's a setting of Jesus' words in Matthew 11:28-30. Here's the New Creations from their 1984 spring concert. The second clip has a few words of invitation from Pastor J. D. McCarty followed by a reprise of the song.
Come to Me All Who Labor (MP3)
Come to Me All Who Labor (reprise) with remarks by J. D. McCarty (MP3)
MORE: From Pilgrim's Progress
Now I saw in my dream, that the highway up which CHRISTIAN was to go was fenced on either side with a wall; and that wall was called "Salvation".

"In that day shall this song be sung in the land of Judah; We have a strong city; salvation will God appoint for walls and bulwarks." Isaiah 26:1

Up this way, therefore, did burdened CHRISTIAN run; but not without great difficulty, because of the load on his back.

He ran thus till he came at a place somewhat ascending; and upon that place stood a Cross, and a little below, in the bottom, a sepulchre. So I saw in my dream, that just as CHRISTIAN came up to the cross, his burden loosed from off his shoulders, and fell from off his back, and began to tumble; and so continued to do till it came to the mouth of the sepulchre, where it fell in, and I saw it no more.

Then was CHRISTIAN glad and lightsome, and said, with a merry heart,

"He hath given me rest by his sorrow,
And life by his death."

Then he stood still awhile to look and wonder; for it was very surprising to him, that the sight of the cross should thus ease him of his burden. He looked therefore, and looked again, even till the springs that were in his head sent the waters down his cheeks.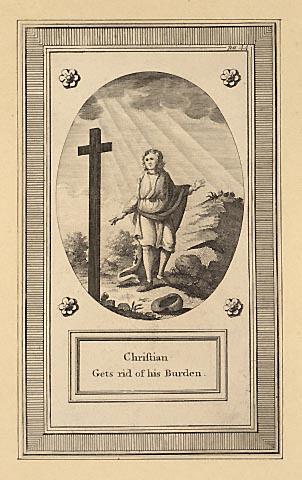 0 TrackBacks
Listed below are links to blogs that reference this entry: "Come to Me All Who Labor".
TrackBack URL for this entry: http://www.batesline.com/cgi-bin/mt/mt-tb.cgi/6500